Russian journalists, including Ruptly stringer, come under shelling in eastern Ukraine
Published time: 8 Mar, 2016 17:35
Edited time: 8 Mar, 2016 18:47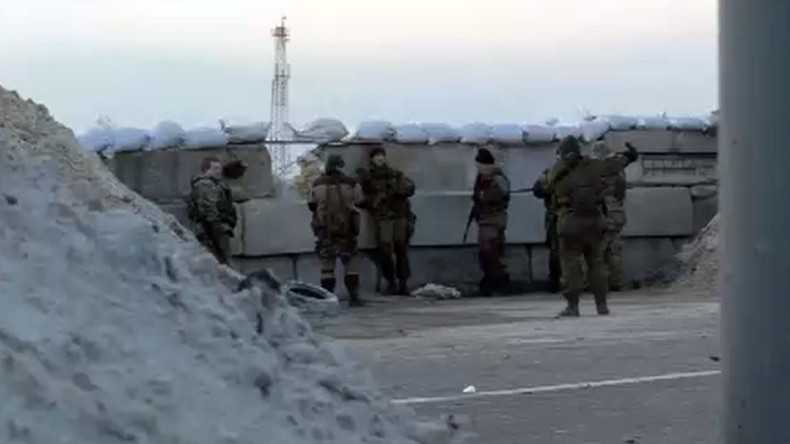 A group of Russian journalists, including a stringer for RT's Ruptly video agency, have come under shelling by Kiev forces at a checkpoint near the town of Yasinovataya in eastern Ukraine.
No one was injured in the incident on Tuesday, but the journalists were forced to hide in a basement until the end of the bombardment.
The shelled reporters represent RT's Ruptly video agency, Russia's VGTRK, Channel One, Channel Five, and RIA-Novosti news agency, as well as local Donetsk News Agency.
The Ukrainian forces used mortars, grenade launchers, and fire arms in the attack, RIA-Novosti reported.
Donetsk People's Republic (DPR) spokesman Eduard Basurin said earlier that Kiev's forces were trying to battle through to rebel-held territory near the strategic transport-hub of Yasinovataya.
Ruptly's stringer, Andrey Miroshnikov, told RT that heavy fighting has been underway in Yasinovitaya since Monday.
Basurin took members of the media to the checkpoint so that they could witness the ceasefire violations by the Ukrainian side firsthand, and the shelling intensified when they arrived on site.
The military conflict broke out in eastern Ukraine in the spring of 2014 when Kiev sent troops to the Donetsk and Lugansk regions after they refused to recognize the new coup-imposed authorities in the capital.
A ceasefire was finally reached after over a year of fighting in which over 9,000 were killed, but violations of the truce are reported by both sides on a regular basis.