ISIS Syrian capital Raqqa hit by uprising, defections – reports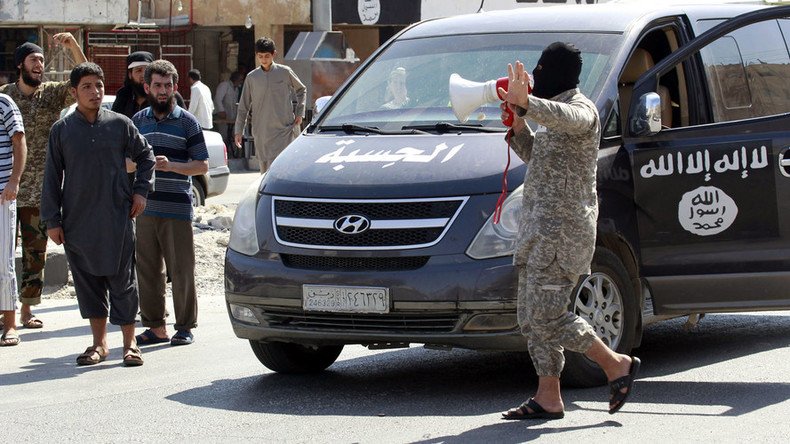 A popular uprising in Islamic State stronghold Raqqa reportedly resulted in dozens of deaths as militias clashed with the terrorist group's fighters. Some 200 militants are said to have switched sides and are fighting against their former comrades.
Several local sources say the clashes in Raqqa have been escalating for several days and resulted in numerous defections from the ranks of Islamic State (IS, formerly ISIS/ISIL, also known as Daesh, an Arabic pejorative term).
"About 200 Syrian militants of Daesh took the side of residents of Raqqa, which forced the terrorists to organize roadblocks at the entrance to the city," one source told Sputnik.
Reports of desertion have been confirmed by Alalam news and Hamrin news.
After heavy clashes with IS fighters on Sunday, its former members helped the locals secure at least five neighborhoods in the city, where the black IS flag has been replace with the national flags of Syria.
According to witness reports, Raqqa citizens now control the al-Dareiyeh, al-Ramileh, al-Ferdows, al-Ajili and al-Bakri neighborhoods.
"The split within the organization occurred as a result of internal differences in their ranks, and led to armed clashes and dozens of deaths," a source told Hamrin news.
Sources on the ground for Alalam news explained that many fighters are trying to escape Islamic State clutches as the Syrian Army and Kurdish fighters have made a number of advances around the city, and against IS positions across the country.
"Since October of 2015, the Syrian Army has captured some 50 villages in eastern Aleppo during an offensive which halted the ISIL-imposed siege on Kuweires Airbase," the sources said.
The city of Raqqa is considered to be the Daesh capital and their major stronghold in Syria. It has been under the control of the jihadists since August 2014. Currently the Syrian Army and the Kurdish militias are carrying out offensives to liberate the city from the terrorist group.
"Furthermore, government forces have advanced along the M45-highway (Hama to Raqqa) and reached the Western side of Raqqa province. Meanwhile, Kurdish fighters of the People's Protection Units (YPG) and Syrian Democratic Forces (SDF) have taken firm control of the Northern region of the Raqqa province," the sources added.
You can share this story on social media: