1 dead, 2 injured in Sydney shooting & 7-hour hostage situation
Published time: 7 Mar, 2016 02:19
Edited time: 7 Mar, 2016 09:13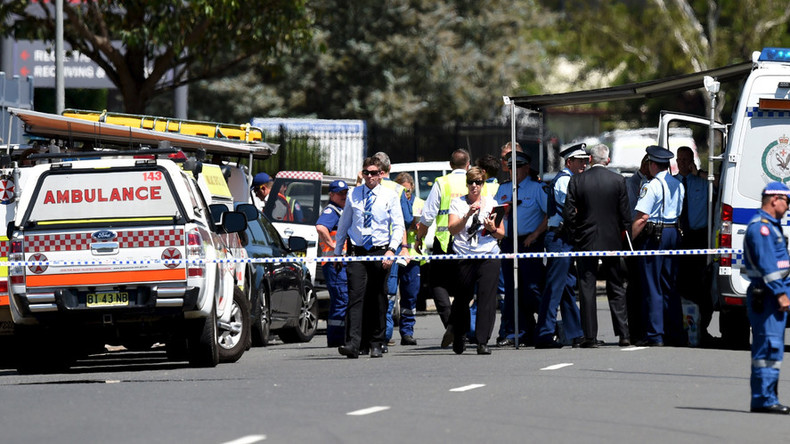 One person has been killed and two others injured in a shooting during a 7-hour-hostage situation at a factory on the outskirts of Sydney. Local media report the gunman was shot dead and the three hostages have been released.
The incident took place in an industrial area in Ingleburn, a suburb 40 kilometers from Sydney on Monday, when a man armed with an automatic weapon, believed to be an AK74, took hostages at a local factory.
"Negotiators and a tactical response team are at the scene and trying to gain access to the building," a police spokeswoman told Reuters.
Local news stations reported that businesses have been placed under lockdown and a one-kilometer exclusion zone has been established.
Police later arrested a man for "hindering" the investigations.
"On arrival police found three males, one deceased and two others with gunshot wounds. The deceased is 43-years-old," Acting Commander Mark Brett told the press. One of the surviving victims is undergoing surgery, while the other suffered "superficial" wounds to the lower part of the body.
"At this stage, there's an ongoing investigation. There's tactical operations and negotiators on scene," the spokesman said, adding that the operation is entering a "delicate" point.
A heavily armored police "Bearcat" vehicle, used in siege operations, has arrived at the scene.
According to AAP there were two victims. One has been shot in the leg and the other in the shoulder. They were taken to Liverpool Hospital.
Later, local 7News said the 7-hour siege in the factory was over, adding that the gunman died. According to South Wales Police Detective Inspector Mark Brett, when police moved into the factory, they found the gunman's body. The 33-year-old man died of an apparently self-inflicted gunshot wound.
Local officers said they found three people hiding inside the building. They were escorted outside, Brett added.