Philippines says it seized 'N. Korean cargo ship' in line with UN sanctions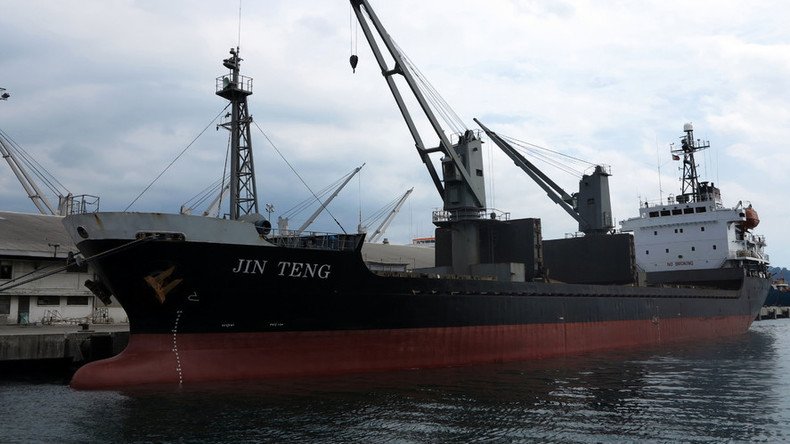 Philippines' authorities have impounded a "North Korean ship." The measure was taken after the UN introduced tougher sanctions against Pyongyang in response to its recent nuclear and ballistic missile tests
The 6,830-tonne Jin Teng freighter will stay in the Port of Subic, a former US naval harbor, Foreign Ministry spokesperson Charles Jose said in a statement on Saturday, according to Reuters. The crewmen will be deported, he added.
"In compliance with the United Nations resolution, the North Korean ship in Subic will be impounded and not allowed to leave port," Jose said.
The Philippines will wait for a group of experts from the United Nations to decide what to do next, the spokesman said.
"The world is concerned over North Korea's nuclear weapons program and as a member of the UN, the Philippines has to do its part to enforce the sanctions," Manolo Quezon, deputy presidential spokesman, said in a radio interview.
However, the Jin Teng's documents apparently prove the ship belongs to Sierra Leone, is owned by an entity based in the British Virgin Islands and is run by a Chinese firm from the Shandons province, Philippine Coast Guard regional commander Raul Belesario told AP.
"On paper, it's not North Korean," he said.
The Jin Teng arrived at Subic Bay flying the Sierra Leone flag on February 27 and started unloading palm kernels.
The ship was banned from leaving port after an inspection carried out on Friday revealed minor safety concerns, such as missing fire hoses, a corroded air vent and electrical switches without insulation.
This is one of the 31 sanctioned North Korean ships on the list of "economic resources controlled or operated by Ocean Maritime Management and therefore subject to the asset freeze" issued by the UN Security Council on Wednesday.
The sanctions include inspection of all cargos to and from North Korea. Previously, shipments were to be inspected only if there were grounds to believe they contained illicit goods.
North Korea has been subject to UN sanctions since 2006, following previous missile and nuclear tests.
You can share this story on social media: