'Efficient, accurate': Russian air warfare in Syria praised in classified NATO report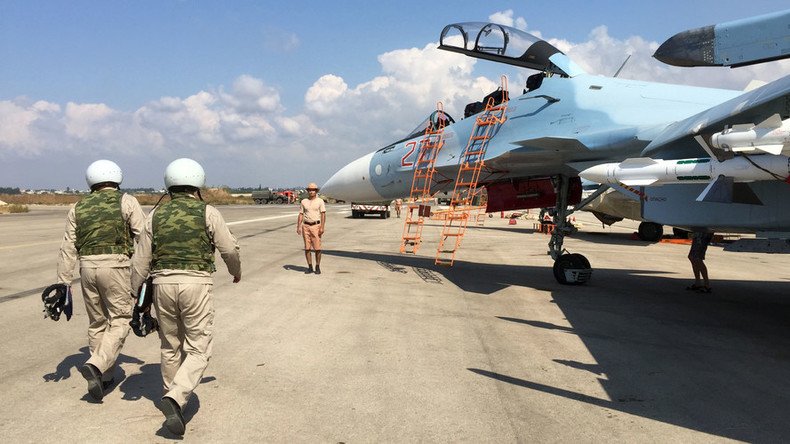 The Russian task force in Syria has demonstrated remarkable efficiency and professionalism, according to a German magazine citing confidential NATO analysis.
The limited Russian contingent operating in Syria is outperforming the more widespread groupings of the US-led anti-Islamic State coalition, according to Germany's FOCUS media outlet who came by the classified NATO document, which was prepared by the alliance's military experts.
The document points out that Russia deployed 40 warplanes, performing some 75 sorties a day (until the ceasefire came into effect on February 27). The airstrikes, usually delivered on several targets during each combat flight, are "accurate and efficient," the analysis reportedly says.
The US-led counterterrorist coalition, deploying about 180 warplanes against Islamic State (IS, former ISIS/ISIL), strikes only about 20 targets a day. The paper says the number of Russian fighter jets on the ground is "clearly inferior in number" to NATO's group, but the higher frequency of the Russian air raids makes them more effective.
The US-led counterterrorist coalition has been operating in Iraq and Syria for over a year, while Russia launched its offensive on terrorist groups on September 30, 2015.
The NATO report points out that the Russian task force obtains actual intelligence about important terrorist targets from special forces and spies on the ground, as well as Syrian Air Force aerial reconnaissance.
The Russian Air Force has turned the Syrian battlefield into a test ground for advanced military technologies, such as deploying ultra-modern Sukhoi Su-35 fighter jets to Syria's Khmeimim airbase. The plane is believed by many experts to be superior to most existing warplanes, the report claims.
The NATO report acknowledged that it is the highly professional performance of the Russian task force in Syria that made the greatest contribution in putting an end to the cruel "display of power" practiced by terrorists in Syria for years.
The FOCUS media outlet stressed the document never mentions any civilian casualties caused by Russian airstrikes.
According to NATO experts, only 20 percent of Russian airstrikes are delivered on IS militants. The other raids have been allegedly directed against anti-Assad militias, some of which are supported by the West.
The NATO analysis was confirmed by US Department of State spokesperson John Kirby, who acknowledged at a press briefing on Friday that Russia has played the central role in the Syrian peace process. This despite various disagreements between Moscow and Washington, which are co-chairing the International Syria Support Group (ISSG).
"We don't see eye to eye with Russia on everything, and I am not even talking about outside Syria, even inside what's going in Syria. There have been and there will probably continue to be disagreements with Russia over various factors there as we move forward, but Russia has taken a leadership role inside the ISSG," Kirby said, adding the Russians have been helpful and cooperative "in some ways."
"In other ways we still continue to have issues with them," Kirby said, unconditionally denying that Washington is "simply yielding concessions" to Moscow.
"Why they [Russians] are being so much more effective? Because they are actually trying to hit these targets, they are coordinating directly with the Syrian government and are working more closely with people on the ground. The US were there a lot longer and they were unable to show result[s] … They also were unable to work with their own historic allies in the region to actually curb support for ISIS," Belgrade-based analyst Joaquin Flores said in an interview with RT.
You can share this story on social media: