20,000 uniforms bound for ISIS, Al-Nusra Front seized in Spain (VIDEO)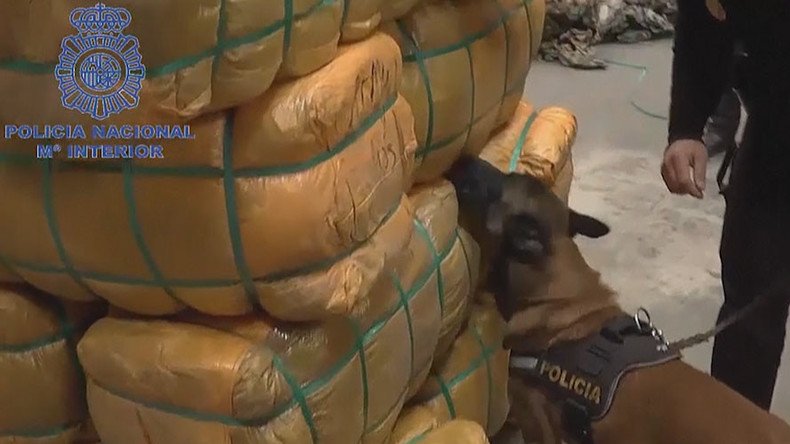 Spanish police have confiscated 20,000 battle uniforms destined for jihadists of the Middle East, likely Islamic State and Al-Nusra Front. The uniforms were prepared for dispatch in three containers under the guise of second-hand clothes.
The Interior Ministry believes that the "roughly 20,000 military uniforms and accessories" confiscated, bound for destinations controlled by Islamic State (IS, formerly ISIS/ISIL) and Al-Qaeda affiliate Al-Nusra Front in Syria and Iraq would enable terrorists to "equip an entire army," it said in the statement.
"The containers which carried the military uniforms were declared as secondhand clothes so as not to raise suspicions and be able to pass different customs inspections without any difficulty," the statement said.
The camouflage uniforms were packed in large bundles hidden among used clothes.
Spanish police revealed that one of the companies run by the detained suspects was specializing in importing second-hand clothes. One of the arrested used this second-hand clothing company for dispatching "military material, money, electronic and transmission material, firearms and precursors for making explosives" to Syria and Iraq, police said.
The operation took place nearly a month ago, yet Spain's Interior Ministry only announced the results on Thursday.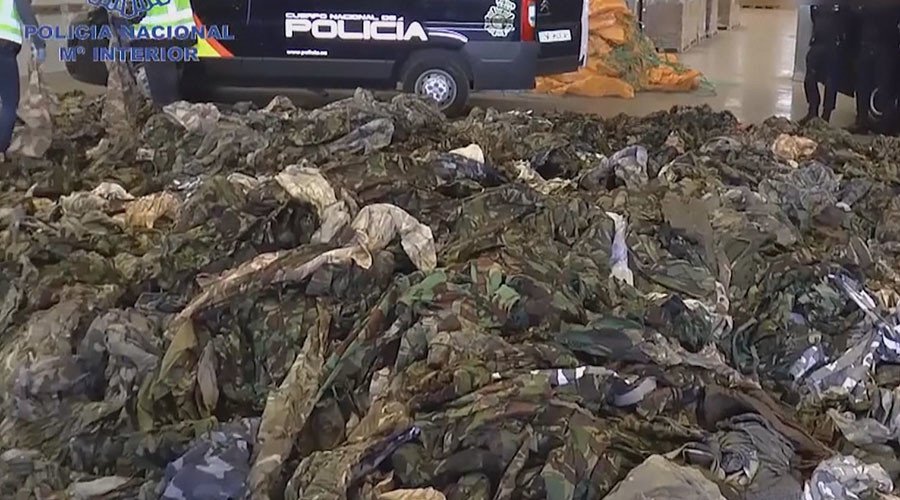 "Two of the three containers were intercepted at a port in Valencia and one at Algeciras in an anti-terror operation conducted on February 7. The containers were being shipped to areas controlled by IS and Al-Nusra Front in Iraq and Syria," said the ministry.
Spanish law enforcement also arrested seven suspects, thus neutralizing "very active and efficient business network," whose primary purpose was to supply, maintain and strengthen Islamic extremists, the police statement said. The arrested individuals provided logistic and financial services to Islamists, maintaining a continuous flow of supplies to terrorists.
Last month, Europol officials called attention to the fact that unknown number of jihadists could have infiltrated into the EU via the poorly-controlled influx of asylum seekers coming into Europe.
Between 3,000 and 5,000 EU citizens trained in IS terror camps as so-called 'foreign fighters' have returned to Europe and pose a "completely new challenge," acknowledged Rob Wainwright, Europol's director.
According the continent's top cop, "Europe is currently facing the highest terror threat in more than in a decade."
The seizure in Spain of five tons of military goods destined to such a "schizophrenic" terrorist group as IS serves proof that there are established international networks illegally serving terrorist interests, Gorka Castillo, a journalist and Middle East expert from Madrid, told RT Spanish.
"It demonstrates once again that the ongoing worldwide black cash flow serves interests of such terrorist groups as Daesh [Arabic pejorative term for IS]," Castillo said, noting that filters the Spanish authorities use to screen asylum seekers are not exactly effective, just like the policies pursued by the EU in order to restrain terrorist groups financially.
You can share this story on social media: