Man throws live dog to polar bear in Russia's Far East [DISTURBING VIDEO]
Published time: 4 Mar, 2016 11:09
Edited time: 15 Jun, 2016 13:28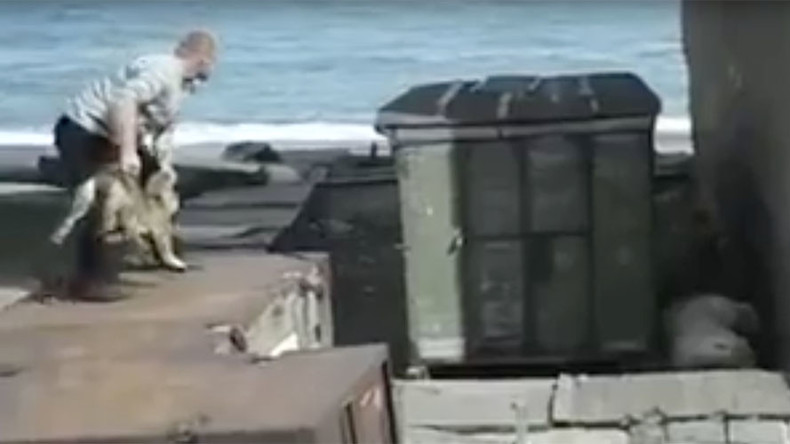 Video has emerged of a man throwing a live dog towards a polar bear in the Far East of Russia. The footage shows the person laughing as he picks up the petrified dog and hurls it towards the large animal. The fate of the dog is unknown.
The group of people, which included at least two men and a woman who can be heard during the footage, threw the dog towards a polar bear which was lying behind a container.
A woman can be heard shouting "don't kill him."
However, the man ignores her advice, and throws the dog, who was understandably in a panic, towards the polar bear while the offender can be heard giggling. The bear then apparently attacks the dog.
The man then says "he ran away," as more laughter can be heard. The fate of the dog is unclear.
According to RIA Novosti, the video was shot in 2011 in Chukotka in the village of Mys Shmidta. Anatoly Konchnev, from the Institute of Biological Problems explained that the group was trying to scare off the bear, which had previously tried to pounce on a seemingly drunken woman who had been lying in the same spot.
Members of the public who have been outraged by the video have started a petition on the website Change.org to try and catch the perpetrator. Over 17,000 people have since signed it.
"A dog is man's best friend, but some people don't value friends… Some of these people can, without even thinking, throw a LIVE dog into a bear's jaws!!! Please help to sign the petition and draw attention to the problems of animal cruelty," the petition read.
"What future do we have and our children have, if such cruelty towards animals is punished by just a small fine or community service? Unless a criminal punishment is handed out for KILLING an animal, this will continue," the message continued.