Russian prosecutor's office probes large Rosneft oil spill in Far East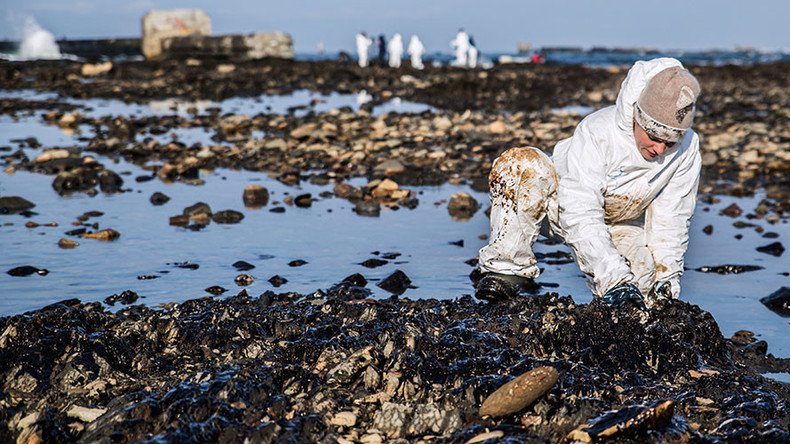 The public prosecutor's office on the Russian island of Sakhalin is investigating a large oil spill in the north of the island, which happened at an out-of-service pipeline belonging to a Rosneft subsidiary.
The spill occurred during planned works at a non-operative pipeline on the island's Ekhabi oilfield in the North Pacific Ocean on Wednesday, RN-Sakhalinmorneftegaz said in a news release.
According to preliminary estimates, some 15 tonnes of oil spilled, TASS reported, citing the prosecutor's office. Local emergency services told the agency that an area of some 60 by 60 meters (nearly 200 by 200 feet) has been damaged.
The oil producing company said it had localized the spill, and in order to minimize the damage to the environment, a "controlled burn off" of parts of the spilled oil had been performed.
READ MORE: Crude oil leaks into water supply after pipeline rupture in Siberia
"There is no threat of [the spill] spreading or going into any stretch of water," the company said.
The prosecutor's office will look into the promptness and completeness of measures taken by the oil producer, Rosbalt reported. A special commission will estimate the scale of the ecological damage.
Local ecologists have warned the scale of the disaster might be larger than reported by Rosneft. The head of Sakhalin's regional ecological watchdog told Intefax Far East, citing his sources, that more than 300 tonnes of oil might have been spilled, some of it having reached local rivers.
The Ekhabi oilfield has been active since the late 1940s. It is now in its final stages of use with no more than five percent of oil resources left in it, according to Riafan.ru.
You can share this story on social media: