NATO refugee mission in Aegean on hold as Ankara denies 'fabricated' reports of stalling
Published time: 2 Mar, 2016 15:00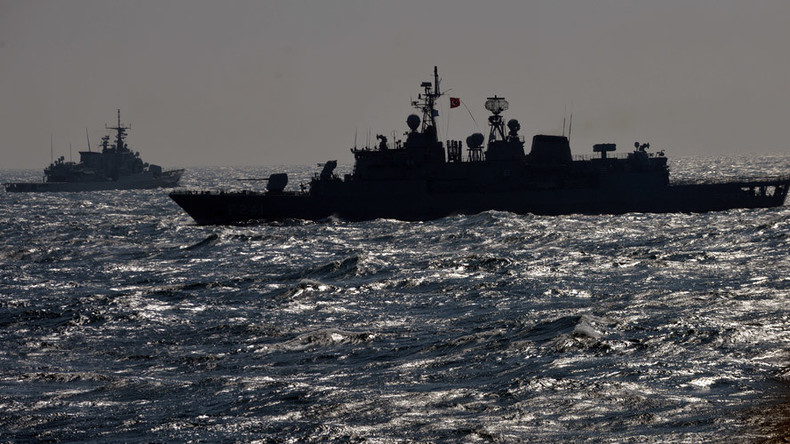 A NATO naval mission to help stop people-smuggling in the Aegean has been put on hold after Turkey "denied entry" to its waters for the bloc's warships, an AFP report says. Turkish officials have dubbed the report "fabricated" and "provocative."
The large-scale maritime mission, seeking to tackle human trafficking and illegal migration in the Aegean Sea, was launched earlier this month and aims to help the EU cope with the unprecedented refugee crisis, dubbed the worst since World War II.
NATO Standing Maritime Group 2, which is under the German Navy's command, includes five ships from different bloc members and leads the operation. Three ships – the German Navy frigate Bonn, the Canadian HMCS Fredericton, and a Barbaros-class Turkish frigate – were set to deploy immediately.
The naval group is planned to conduct reconnaissance, monitoring and surveillance to provide information to Greece, Turkey and the EU's border agency Frontex so that they – not the military bloc itself – can deal with the so-called "refugee boats."
However, despite requests by the NATO operation's German command, "the Turks refused to allow the vessels entry into Turkish waters this weekend," AFP reports, citing a diplomatic source.
Turkish authorities have reportedly asked the German commander of the NATO operation, Rear Admiral Jorg Klein, "to go to Ankara to determine the area where [the NATO naval group] might deploy," the diplomatic source revealed.
In the meantime, Ankara "is showing little to no interest" in taking back migrants rescued by the NATO vessels at sea in the midst of their dangerous journey to Greece.
Turkey dismissed the report as "falsified" and claimed it was made to create provocation.
"We don't feel it necessary to respond to the comments, the source of which we do not know and which are obviously fabricated and most probably aimed at creating provocation," Turkish officials told Hürriyet Daily News on Wednesday.
"Work is going on to have NATO activity conducted as planned," the officials said, speaking under the condition of anonymity. The work at this stage involved the "drawing of maps," which will be attended by military officials from the Turkish Navy, according to the newspaper.
Smugglers' boat lanes in the Aegean are the main passageway for refugees trying to reach Western Europe and Scandinavia via the Balkans. They begin on the Turkish coastline, where migrants embark on boats or improvised vessels, and then go through mainland Greece and Slovenia.