Like all the way to Rome: Monster traffic jams in Moscow after heaviest spring snowfall in 50yrs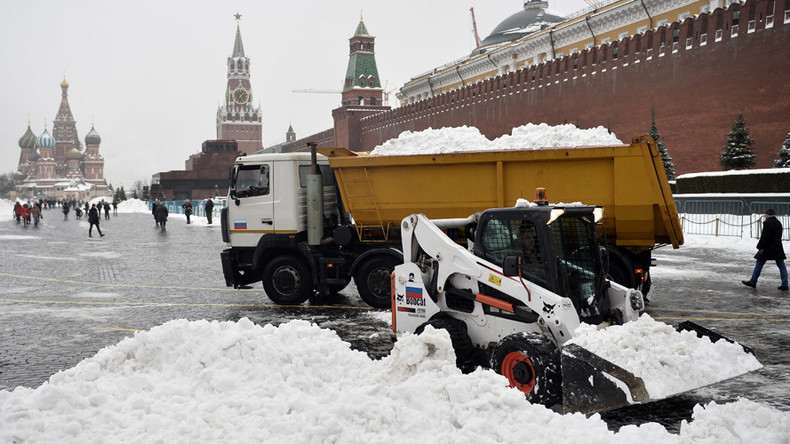 Dozens of canceled flights, tailbacks equaling the distance between Moscow and Rome, and almost 1,000 traffic incidents overnight – the strongest 'early spring' snowfall in 50 years has stormed the Russian capital.
Moscow received 20cm of snow overnight, which is some 65 percent of the monthly norm, according to weather services. Meteorologists say this is the heaviest snowfall since 1966.
"This is a record snowfall for Moscow," said Deputy Mayor Petr Birykov, adding that 60,000 staff and 15,500 machines are currently tackling the consequences of the huge amounts of the white stuff.
In the last 24 hours, the capital saw "928 minor traffic incidents and 26 car crashes which injured 28 people," officials from Moscow traffic services told TASS.
Major Moscow airports Sheremetyevo, Vnukovo and Domodedovo canceled more than 80 flights following the snowstorm.
Weather services said that snow started at night and strengthened in the morning. The situation for commuters also worsened due to ice and blizzards.
Muscovites took to social media to post dozens of photos of snowdrifts and half-buried cars. Users complained that although it is March 2, winter just doesn't want to let go.
"Everyone waited for spring, but the weather decided to surprise us," wrote one Instagram user, while another ironically congratulated friends on "the second day of spring."
Others decided not to dig out their cars from the thick snow and took the Metro instead. It was a wise decision, as the Yandex traffic app indicated that the total length of traffic jams in the city was no less than 3,400km – which is even more than the distance between Moscow and Rome.
According to Moscow Mayor Sergey Sobyanin, dealing with the consequences of such heavy snowfall will take several days.