Panned on Periscope: French president suffers media fiasco
Published time: 2 Mar, 2016 12:01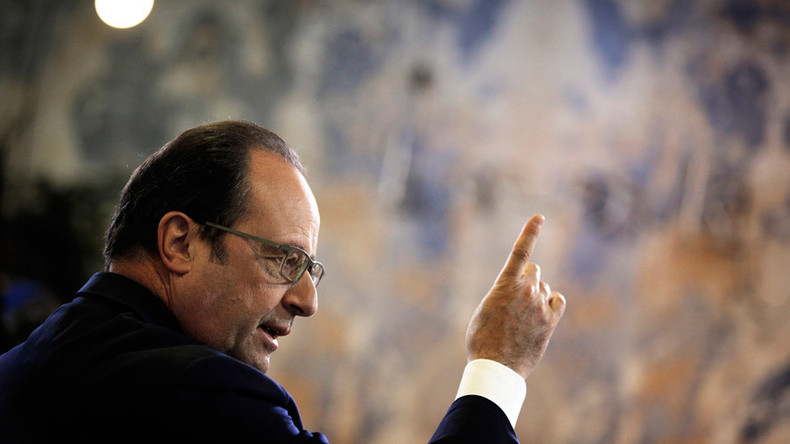 Things didn't exactly go to plan for Francois Hollande's media team when they used the live-streaming platform Periscope during a visit to a company in a Paris suburb on Tuesday. Instead of seeming media-savvy, the president ended up facing a barrage of online insults.
While Hollande was discussing changes to the French labor code with a private clothing showroom's employees, one of his team members launched a Periscope broadcast of the event.
Users of the service immediately seized the rare opportunity to directly express their feelings, often not the most polite ones, towards the president. The comments, which could be seen by everyone who tuned into the broadcast, ranged from simple trolling – "Hollande: tomato onion salad?" – to direct insults like "f***k Hollande" or "François the thug." Several users also called on the president to step down.
"The ordeal of @fhollande live on #Periscope"
The media team tried to mend the situation by deleting offensive comments, however it was unable to stem the flow of online ridicule.
"François Hollande on Periscope. Media manager tries to filter sometimes insulting comments."
"The great idea of the day @Elysee> Holland on Periscope #fail #compol"
Responding to what seems to be a communication disaster, the chief of the Elysee Palace communication department, Gaspard Gantzer, defended the questionable choice to use Twitter's trendy app.
"As often with social networks, there are positive and negative comments, some are relevant, the others are off-topic. But this will change the mode of dialog and discussion with citizens outside of traditional media," Gantzer said, as cited by Le Lab.
However, some users pointed out the lack of competence on behalf of Holland's media team.
"Grollande," "Get out "... Francois Hollande got insulted on Periscope" Gaspard [Gaspard Gantzer] the gifted should resign after such a blunder"
"An error of the Periscope communication operation"