Traffic app 'leads' Israeli soldiers to Palestinian camp, prompting shootout & rescue operation
Published time: 1 Mar, 2016 16:57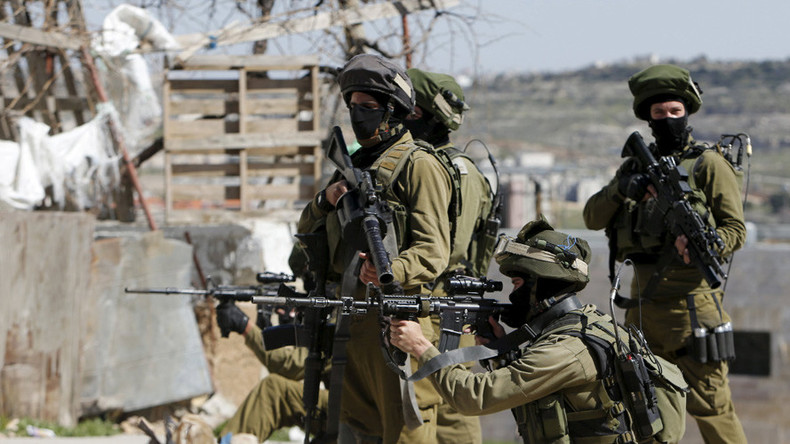 Two Israeli soldiers reportedly using a traffic app mistakenly wandered into a refugee camp in the West Bank overnight, sparking clashes which killed one Palestinian. Fifteen others were injured in the violence, according to officials.
The troops were targeted with rocks and Molotov cocktails when they entered Qalandiya refugee camp, located between Jerusalem and Ramallah, Israeli officials told AFP.
The two soldiers were forced to abandon their burning jeep, one of them hiding in the courtyard of a house and shooting to defend himself and signal his position, a military spokesman said. The other fled towards the nearby Israeli settlement of Kochav Yaakov.
Israeli reinforcements were sent to rescue the soldiers, which sparked further clashes that lasted for hours.
Palestinians threw homemade explosives and shot at the rescue team, which also opened fire, an Israeli spokeswoman said.
One Palestinian was killed and 10 others wounded in the violence, according to the Palestinian Health Ministry. Haaretz reported that four of the injured were wounded by live fire, including one person who is in serious condition. The six others were injured by rubber bullets.
The deceased victim has been identified as 22-year-old student Eyad Omar Sajdia. A trail of blood could be seen trailing down a wall from a roof where he is believed to have been shot.
Five Israeli border police guards were also wounded, one of them seriously, according to Israeli police.
The two soldiers were eventually rescued unharmed.
The soldiers were apparently using the Israeli-developed navigation app 'Waze' when they accidentally entered Qalandiya refugee camp in their jeep, according to Israeli Defense Minister Moshe Yaalon.
It is not clear whether the app actually led them into the camp, and the military says it is investigating whether that is the case. The app, which was purchased by Google for over US$1 billion in 2013, has an option to "avoid dangerous areas," though Yaalon said the feature isn't necessarily enough to keep soldiers safe.
"I learned ages ago the importance of navigating with the aid of a real map, and mainly to know the surrounding area and not to rely too heavily on technology which can lead the user astray," Yaalon said, as quoted by The Times of Israel.
Heavy clashes have taken place at Qalandiya in the past, particularly during Israeli raids to arrest suspects at the camp.
Established in 1949 following the creation of Israel, Qalandiya is home to 11,000 registered refugees. It is located just beyond a checkpoint separating the annexed East Jerusalem and the West Bank.