'We will participate': Saudi military admits US coalition mulling ground invasion in Syria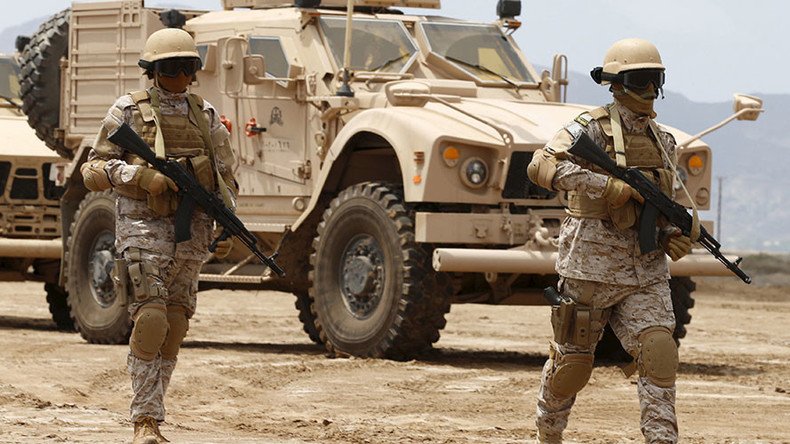 Saudi Arabia has acknowledged that the US-led anti-ISIS coalition has held a "political" discussion about a potential ground troop deployment in Syria. Riyadh's statements have been criticized by Damascus as destructive and a threat to regional security.
In an interview with Reuters, an aide to Saudi Arabia's defense minister, Brigadier General Ahmed Asseri, confirmed that defense ministers from the anti-Islamic State (IS, formerly ISIS/ISIL) coalition debated placing ground troops on the ground in Syria during a ministerial meeting in Brussels last month.
"It was discussed two weeks ago in Brussels," Asseri said, clarifying that the discussions took place on the "political" level only without going into details of a potential "military mission."
The general stressed that if the decision is made, Saudis would be more than willing to contribute troops – a move that Syria strongly warned against on a number of occasions. Asseri also acknowledged that Riyadh has been working on the military implementation of a possible Syria invasion.
"Once this is organized, and decided how many troops and how they will go and where they will go, we will participate in that," he said.
"We need to discuss at the military level very extensively with the military experts to make sure that we have a plan."
The Saudi general stressed that for the time being, the Kingdom's air force is ready to strike Islamic State targets from Turkey's Incirlik air base, where four Saudi fighter jets were deployed last month.
Washington also confirmed Saudi Arabia's' willingness to strike targets in Syria, with State Department spokesman John Kirby saying that the US would welcome the Kingdom's participation.
"But there's a lot that needs to be discussed in terms of what they would do, what their makeup would be, how they would need to be supported by the coalition going forward. So there's a lot of homework that needs to be done," Kirby said.
Saudi Arabia's push for ground incursion into Syria comes at a time when Moscow warned that Turkey is strengthening its military positions on the border with Syria at a time when US and Russia are doing their best to cement a fragile ceasefire in the country.
On Monday, an official source at the Syrian Foreign and Expatriates Ministry told Syria's official SANA news agency that Saudi Arabia is playing a "destructive role" in the peace process while "threatening security and stability" of the world.
The statement came in reply to Saudi Foreign Minister Adel Al-Jubeir comments that he made on Sunday, accusing Syrian troops of violating the ceasefire brokered by Russia and the US, and reiterating the Kingdom's position that Bashar Assad has no place in the future of Syria.
The Syrian official stressed that Al-Jubeir's statements violate UN Security Council resolution 2268 that endorses the ceasefire. The resolution specifically demands that all parties to the agreement use their influence to ensure that parties to the Syrian conflict fulfill their commitments and create the conditions for a durable ceasefire.
In this regards, the source told SANA that Damascus requests that the UN Secretary-General form a committee to examine the possibility of "crimes that were committed and are still being committed by the Saudi regime and in the Arab world."
Meanwhile, a US defense official told Reuters that Washington will continue to support forces on the ground in Syria that fight against Islamic State terrorists.
"We will continue to provide equipment packages to vetted leaders and their units so that over time they can make a concerted push into territory still controlled," the official said. "As a matter of policy, we won't comment or speculate on potential future operations."
You can share this story on social media: