Robots deployed in search operation following deadly Russian coal mine explosion (VIDEO)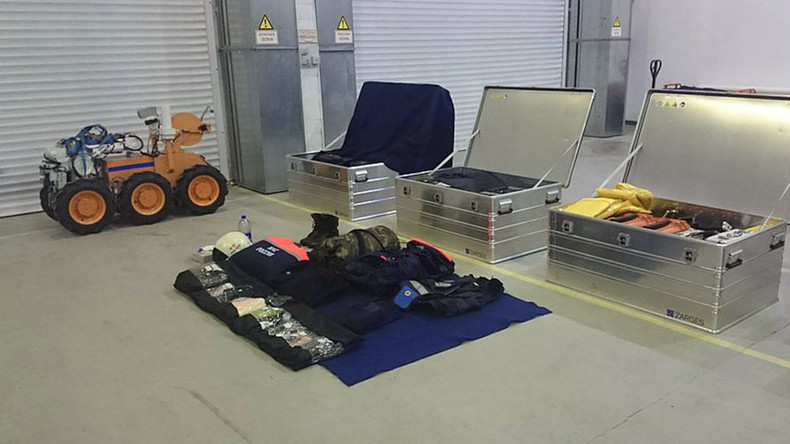 Mobile robots have been deployed underground in an effort to establish visual contact and potentially recover the bodies of over two dozen people who were buried after a series of methane explosions rocked a coal mine in the Russian Arctic city of Vorkuta.
The visual reconnaissance robots offer the possibility of exploring hard-to-reach areas in a search for some 26 miners still stuck underground and presumed dead, following numerous blasts at the Severnaya coalmine last week.
"Robots will be shortly deployed into the affected mine for work," a ministry representative told TASS.
The robotic systems, sent as part of a special ministry task force, dubbed "Leader", are equipped with several video cameras in addition to special sensors designed to probe the hazardous environment inside the crippled mine.
"Robots are capable of making remote measurements, can take air samples, move sensing elements ... they are equipped with infrared sensing elements and can work in complete darkness in conditions of excessive concentration of smoke and dust," the ministry said.
The work of the robots will be controlled and supervised by a team of 11 professionals specially trained in search and rescue missions.
A methane leak at the Severnaya mine on February 25 led to two blasts and a fire. At the time of the tragedy 110 coalminers worked underground at a depth of 780 meters. Four miners died and another nine were injured in the accident, while the fate of 26 miners remains unknown. No contact with those buried underground has been established.
As the rescue effort continued, a third blast rocked the mine on Sunday morning killing six people, including five rescuers. The search operation was temporarily suspended after their deaths.
According to Russian Deputy Prime Minister Arkady Dvorkovich, the total death toll from the Severnaya mine collapse and a follow-up blast on Sunday has reached 36 people, including five rescuers. Emergencies Minister Vladimir Puchkov, earlier said that conditions below the surface could not possibly allow those trapped to survive.