'Ax-wielding' Palestinian in brutal attack on Israeli guard (GRAPHIC VIDEO)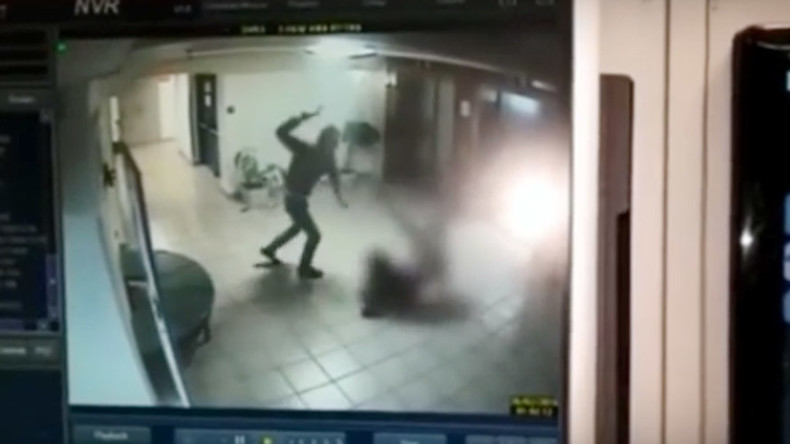 A Palestinian has brutally attacked an Israeli security guard in a shopping mall with something that resembled an ax, a CCTV video shows. The assailant, who was a mall employee, is seen striking the father of four multiple times near an elevator.
The incident took place in Maale Adumim, an Israeli settlement in the West Bank, 7km from Jerusalem.
The suspect, later identified as 21-year-old Abu Hammad, approached the guard, Tzvika Cohen, and reportedly asked him to open the elevator door. Cohen wasn't suspecting the attack as he knew Hammad and the pair worked together at the mall, Channel 2 reported.
Hammad attacked the guard without warning, striking him several times with a metal object that resembles an ax, as seen in security camera footage which is circulating online.
The guard is currently in serious condition at the Hadassah-University Medical Center on Mount Scopus, northern Jerusalem.
Two days after the incident the Shin Bet (Israel Security Agency), police and Israel Defense Forces (IDF) managed to find Hammad, who is a resident of the Palestinian village of Eizariya, located near Maale Adumim.
READ MORE: Israeli border police officer flips Palestinian man from wheelchair (VIDEO)
Hammad confirmed that he "implicated himself into a terrorist attack," the Shin Bet said, as reported by the Jerusalem Post.
Following the attack, the Israeli government moved to ban all Palestinians from Maale Adumim until Thursday, a spokesman for the settlement said, as cited by AFP. He added that about 500 Palestinian laborers are affected by the ban.
A new wave of violence between long-standing opponents Israel and Palestine erupted in October when Israel attempted to restrict access of Palestinian men to the Al-Aqsa Mosque in the Old City area of Jerusalem.
Since then, Israeli security forces have killed at least 168 Palestinians, 111 of whom allegedly initiated attacks. Palestinian assailants have killed 28 Israelis, as well as one US citizen.