Iran needs no permission to develop its missile program – FM
Published time: 28 Feb, 2016 20:21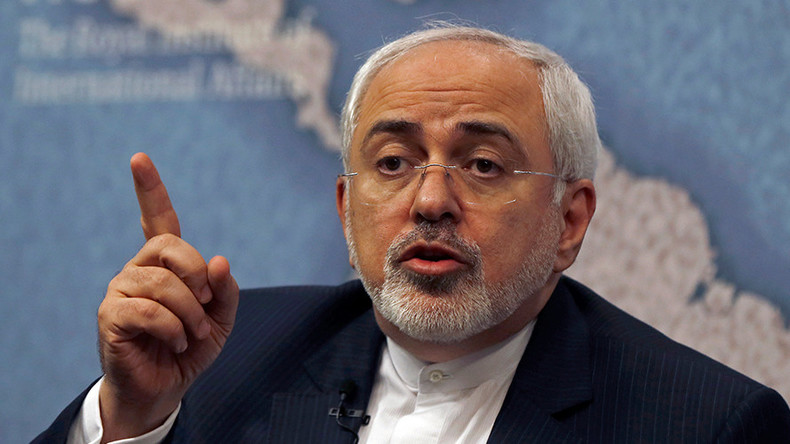 Tehran will continue developing its missile program, as it does not need "permission from anyone" to strengthen its defense capabilities, Iranian Foreign Minister Mohammad Javad Zarif told the media.
"We do not need permission from anyone to develop our missile program and strengthen Iran's defense capabilities," Zarif said in an interview to the Iranian Students News Agency (ISNA), adding that the "Iranian missile program will continue regardless of obstacles and will be provided with all of the necessary materials and equipment."
Iran's government has repeatedly claimed that the ballistic missiles it is currently developing do not fall within the restrictions imposed by the UN Security Council resolution, as they do not carry nuclear warheads.
"The missile tests being conducted by Iran have nothing to do with the UNSC resolution 2231, as Iranian missiles are not designed to deliver nuclear warheads," Zarif said earlier, as quoted by TASS new agency.
Commenting on Iran's relations with the United States, Zarif told ISNA that the US should abandon its "mentality of sanctions."
"We are still waiting to see whether the US demonstrates commitment to its obligations [concerning the lifting of sanctions] or not," he noted.
As for broadening contacts with the US, he said that Iranian officials "will take a decision on extending negotiations with the US to other issues [not related to the Iran's nuclear program] on the basis of … national interests," stressing that "the US still needs to make more of an effort if it is to win the trust of the Iranian people."
The US and Iran severed diplomatic relations in April of 1980 at the initiative of the United States.
'Saudi Arabia strikes heavy blow on itself'
During the interview, Zarif emphasized that Saudi Arabia's actions aimed at lowering world oil prices have had most negative consequences for the economy of the kingdom itself.
"By lowering oil prices, Saudi Arabia has struck a heavy blow on itself," the foreign minister told ISNA.
"Since Iran is making every effort to cut its dependence on oil revenues under [the strategy of] 'resistance economy' … a fall in oil prices will do minimal damage to the Islamic Republic," Zarif told the agency, urging all regional countries, including Saudi Arabia, to rethink their policies, given the negative ramifications their internal economies face as a result of falling in oil prices.
He also equated Saudi Arabia with Israel, emphasizing that "Saudi Arabia believes that peace in the Middle East goes against its interests," adding that its policy is in line with that of Israel, which "made serious efforts" to thwart the negotiations on Iran's nuclear deal.
At the same time, the minister stressed that "our region needs security, stability and peace," adding that Iran's regional strategy is based on these needs.
The US Treasury imposed new sanctions on Iran over ballistic missile tests carried out on January 17, less than a day after some of the sanctions imposed on Iran over its nuclear program were removed by the US and EU under the Iran nuclear deal reached in July 2015.
The move followed an Iranian missile test conducted in October of 2015 that allegedly broke a UN Security Council resolution restricting the development of missiles capable of carrying nuclear warheads. On December 31, 2015, Iranian President Hassan Rouhani said that Tehran should expand its missile program if the US followed through on its threat to introduce new sanctions.