'7 blasts in 10 minutes' rock pro-Kurdish city Diyarbakır embattled by Turkish forces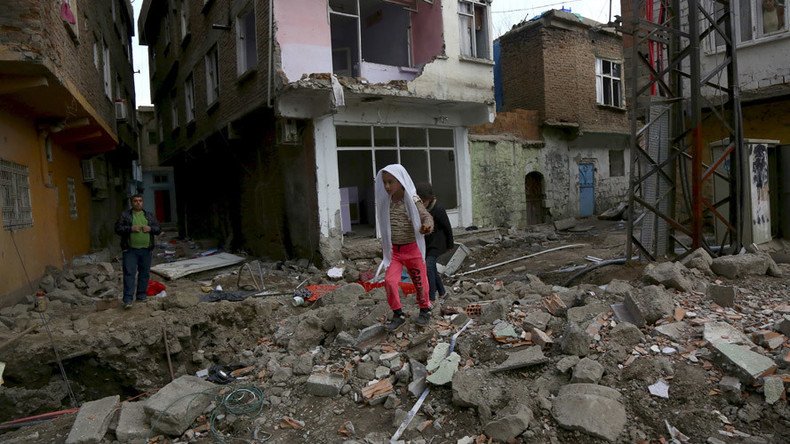 At least seven blasts within 10 minutes have been reported in a suburb of Diyarbakır, the largest city in the Kurdish southeast of Turkey, which has been a scene of long security operation launched by Ankara against PKK fighters.
The explosions rocked the Sur district of the city, DIHA, a pro-Kurdish news agency, reports adding that about 200 civilians have been caught in the bombing. It is unclear what happened to the civilians and whether there are any dead or injured.
Turkish soldiers engage Kurdish activists in Diyarbakir, 4 wounded – report
Diyarbakır, one of the largest cities in southeastern Turkey, is considered an unofficial capital of the Turkish Kurds. The city has seen a number of clashes since Ankara launched a security operation there in recent months. Security troops are enforcing a curfew in the city and other large settlements in the southeast.
Diyarbakir has been recently swept by protests over the Turkish crackdown. On Saturday, local residents took to the streets of the pro-Kurdish city to protest against the ongoing military operations and curfew. The demonstrators were confronted by Turkish security forces, who fired tear gas and water cannon against them.
In August, Ankara began a ground operation to crack down on Kurdish fighters linked to the Kurdistan Workers' Party (PKK). The violence ended a two-year truce with the Kurdish militants, who have been fighting a guerrilla war for independence for decades. An estimated 10,000 Turkish troops armed with heavy weapons and armored vehicles, including tanks, were deployed.
Since August 16, Turkish troops have imposed dozens curfews in Kurdish regions, disrupting the lives of some 1.4 million people living in the affected provinces, Human Rights Foundation of Turkey (HRFT) said.
According to the group, in five months of battling the Kurdish insurgency in southeast Turkey, Ankara killed over 160 civilians.
You can share this story on social media: