Irish exit polls point to hung parliament as austerity anger hits govt parties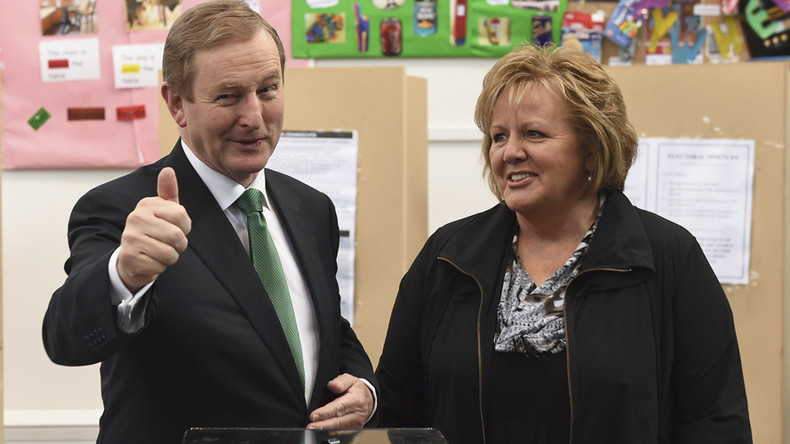 Irish voters face the possibility of having to return to the polls for a rerun election, with exit polls for the 2016 General Election suggesting support for the coalition government has fallen significantly, leaving no party with a working majority.
The Irish electoral system of "single transferable voting" allows voters to rank candidates in order of preference, seeing votes redistributed to subsequent candidates if the higher preferences have been eliminated or elected in earlier counts.
An exit poll published by the Irish Times after voting stations closed Friday night shows at least a 10 percent drop in first preference votes for the two government parties, Fine Gael and Labour.
Leading government party Fine Gael received 26.1 percent of votes, down from 36.1 percent in the 2011 election, according to the MRBI poll. The poll indicates that Labour, hoping to maintain their 37 seats in parliament, holds just 7.8 percent of first preference votes.
While not a full indicator of the election results, the exit poll represents bad news for Fine Gael and its political partner as they appear to stand well off the magic number of 79 - the minimum number of seats with which a stable government can be formed.
Anti-Austerity Alliance candidate Paul Murphy described the apparent collapse in support as a "political earthquake."
Forecasts by Ireland's national broadcaster RTÉ make for even less favorable reading for the government parties - with Fine Gael on 24.8 percent and Labour on just 7.1 percent.
In both the MRBI and RTÉ polls, support for opposition parties Fianna Fáil, republican party Sinn Féin, and Independent candidates has surged.
Early forecasts raise the possibility of a hung parliament, with no party forming a government on its own. It's all the more likely since the three largest parties Fine Gael and Fianna Fáil, as shown in exit polls, have previously ruled out entering into partnership with each other.
Sinn Féin leader and prominent republican Gerry Adams said in September 2015 he was prepared to enter government with "whoever is successful in the election."
It would represent something of a flip-flop for Adams, who in 2014 tweeted the idea of a Fine Gael coalition was only likely in "Cloud Cuckoo Land."
However, it remains to be seen whether Fine Gael and Fianna Fáil would embrace Sinn Féin's politics, following previous assertions they would not strike a deal with the party. Fianna Fáil's Martin has been particularly critical of Sinn Féin, saying in December the party's "way of doing business" wasn't compatible with Fianna Fáil's ideals.
Ballot boxes were opened as counting began at 9am on Saturday morning.