'Die elsewhere': Seriously ill refugee being pushed out of Australian-run processing center
Published time: 26 Feb, 2016 11:10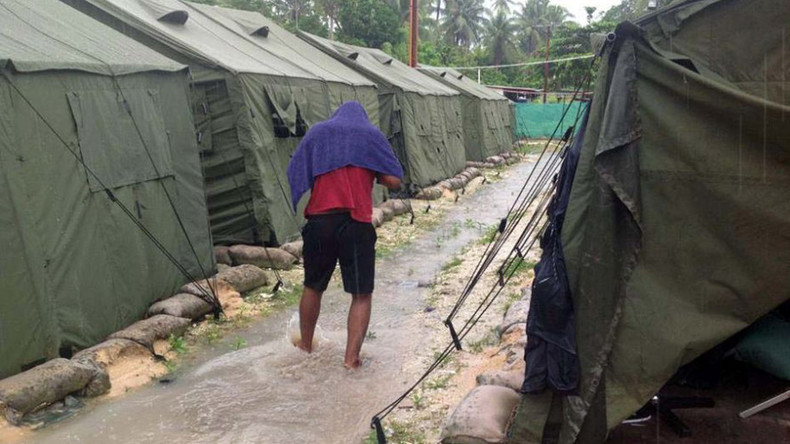 Australian immigration authorities are putting intense pressure on a seriously ill asylum seeker to leave a processing center, leading to fears the man will die if he is deprived access to the current medical care he receives.
Mohammad Albederee, a 31-year-old Iraqi man who was recently granted refugee status by the Australian authorities, is being urged to leave the Regional Processing Center on Los Negros Island in Manus Province, Papua New Guinea, which is run on behalf of the Australian government.
Albederee has spent the last year at the center, and is suffering extreme weight loss having just ended a 10-month hunger strike, which he began in protest at a lack of medical treatment for injuries he allegedly sustained in an encounter with local guards. The hunger strike saw his weight plummet from 74 to 48 kilograms and damaged his health to such an extent that he is no longer capable of taking food or fluids.
Suffering from severe atrophy, Albederee can only walk on crutches and has one broken hand, with the other needing surgery. He is surviving on nutrient injections and sweet tea.
Despite his poor health, he now fears he could be stripped of the healthcare and medication he has access to at the processing center through the International Health and Medical Services clinic, as Papua New Guinean authorities plan to move him to a temporary refugee accommodation center in the nearby town of Lorengau.
Refugee advocate Jeanie Walker says if Albederee is forced to move, he will not last there for long.
"He won't get any help there, currently he has people carrying him to the bathroom, shaving him and washing him," the Guardian cited Walker as saying. "The [authorities] just want him to die elsewhere, not at the detention center."
The refugees transferred to Lorengau have to pay for their medicine, and greatly rely on the generosity of private Australian sponsors to settle their medical bills.
The Manus Processing Center is used by the Australian government for migrants hoping to be granted refugee status in Australia. An Immigration Department spokeswoman gave assurances that all refugees leaving the processing center are provided with four weeks' medication and can always seek medical attention at the Lorengau transit center's weekly clinic, which is staffed by a doctor and a registered nurse.
"If the medication is not available at the Lorengau hospital, refugees are able to purchase it from the local chemist using their allowance," the spokeswoman said, noting that several migrants with positive refugee status are still living at the detention center.