13yo Turkish boy detained for 'insulting' Erdogan on Facebook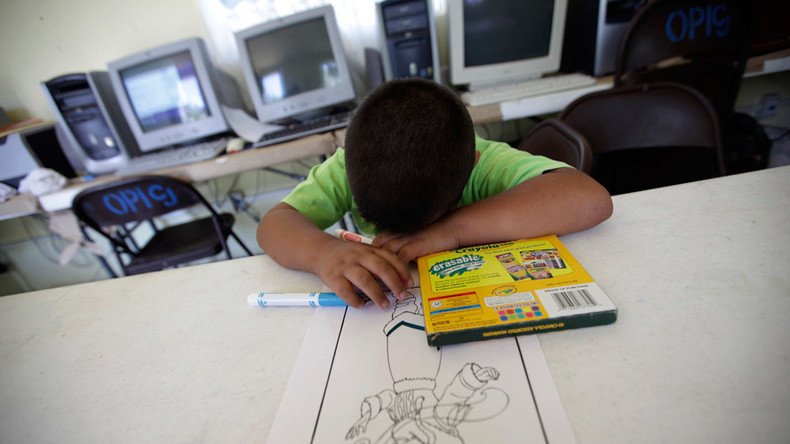 A 13-year-old teen was briefly detained on charges of "insulting" President Recep Tayyip Erdogan on Facebook. The boy's social network account had been under police monitoring for as long as nine months, local media reported.
The boy's house was raided by anti-terror teams on Tuesday after a tip-off by "a secret witness," who claimed that the boy, mentioned only as A. Ş., had insulted Erdogan in a comment that he allegedly posted below a video on Facebook, Bianet news agency reported.
The teen denied all allegations and, following questioning by police, was released due to his young age.
"I have an account on Facebook named A.Ş. I used the name Y.Ş. for a while, but then I started to use my name," the teen told the prosecutor, according to the record of the statement, entitled "Juvenile pushed to crime."
"I didn't share the post 'o. ç. [Turkish abbreviation for son of a b*tch] Erdogan, see this violence, it will eventually be accounted for…' I rather share posts on video games. Sometimes my friends share posts on my page, they know my password, [but] I don't accept such posts. Those are not mine," he stated.
Insulting the president is considered a crime in Turkey, and the punishment can be strict – up to four years in prison. A number of journalists, bloggers, academics, and ordinary people in Turkey have faced charges and received prison terms for allegedly insulting Erdogan. In one of the most bizarre cases, two boys – aged 12 and 13 – are facing up to four years behind bars for ripping up posters of the Turkish leader in October of 2015.
Earlier this month, the governor's office in Isparta in southwestern Turkey reportedly sent a request to all state institutions in the province instructing staff to report straight to the police if they become aware of cases of "insulting" the president and other top officials.
Former Turkish football star Hakan Sukur is facing up to four years in jail for insulting the Turkish president on Twitter. Although the international player said he did not intend to target the president, prosecutors argued that his tweets were "clearly related" to the Turkish leader, the Dogan news agency reported earlier this week.
In January, Turkey's president filed a $66,000 lawsuit against opposition leader Kemal Kilicdaroglu for calling him a "sham dictator." The lawsuit was rejected.
Late last month, a Turkish court sentenced a female teacher to almost a year in prison for directing a rude gesture at Erdogan at a political rally in 2014 when he was still prime minister.
Earlier, former Turkish MP and former member of Erdogan's AK party Feyzi Isbasaran was sentenced to nearly three years in jail for using foul language in tweets against the head of state.
In December, a Turkish court ordered experts to actually find out whether Erdogan resembled the "Lord of the Rings" character of Gollum, after memes comparing the two appeared online.
You can share this story on social media: