Yakuza splinter syndicate becomes Japan's 3rd top mob
Published time: 25 Feb, 2016 18:51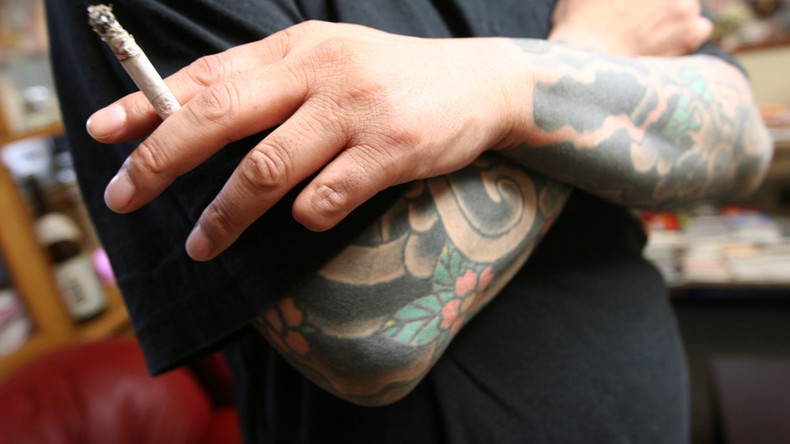 The recently formed Kobe Yamaguchi-gumi yakuza syndicate, which is a spin off from Japan's biggest criminal clan, Yamaguchi-gumi, has become the country's third biggest crime group, police officials report.
Some 6,100 strong, it is only surpassed by its parent Yamaguchi-gumi and Tokyo-based Sumiyoshi-kai, the National Police Agency (NPA) reported on Thursday, as cited by Japanese media.
The group has managed to spread its influence in 36 of Japan's 47 prefectures, Jiji Press reports.
At the same time, the number of gangsters in the country's biggest syndicate, Yamaguchi-gumi, has fallen by 40 percent, from 23,400 to 14,100. The ranks of the gang's top bosses also declined, from 73 to 56, according to the Tokyo Reporter.
The split and the following emergence of Kobe Yamaguchi-gumi are said to be the main reason for the decrease in the membership.
Meanwhile, the NPA points out that yakuza gangs are becoming less popular and losing their members. In 2015, police revealed that the total number of yakuza members, which now amounts to 46,900, had dropped by 12 percent, The Tokyo Reporter says. That is the lowest figure since 1958, when statistics first began to be tracked.
"It has become difficult for them to secure financial sources," a senior police officer said, as cited by The Asahi Shimbun.
"The number of young gangsters is declining, significantly accelerating the aging of the gangster groups," he added.
The split in the Yamaguchi-gumi unfolded last year amid growing discontentment with its leader (kumicho) Shinobu Tsukasa (aka Kenichi Shinoda), who has been accused of extreme egotism and a desire to expand the gang's turf from its native Kobe into Tokyo and other areas.
Leaders of the splinter Kobe Yamaguchi-gumi group say that they left Japan's biggest gang in order to honor the wishes of Yamaguchi-gumi's previous leaders.
Police fear that conflicts could break out between the two rival groups, leaving them in a state of constant alert. Police have raided 158 locations in 27 administrative districts and arrested 210 people since September, according to Nippon News Network.
The Yamaguchi-gumi syndicate was founded in 1915 by a western-Japanese fisherman. It is represented in 44 of Japan's 47 prefectures and is also involved in overseas operations – primarily in Asia and the US.