Snow way out: Blizzard leaves 68 crew stranded on Antarctic ice-breaker (PHOTOS)
Published time: 25 Feb, 2016 17:01
Edited time: 26 Mar, 2018 15:49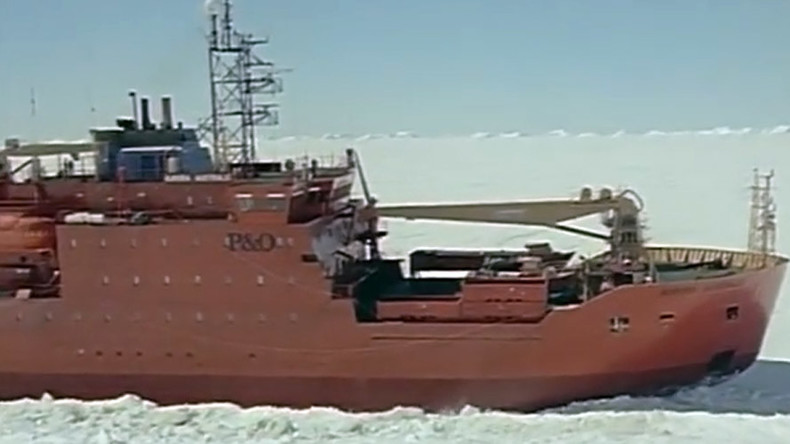 A crew of 68 people remain stranded on board a polar research ship more than a day after it broke from its moorings and ran aground near Australia's oldest harbor in the Antarctic Circle.
The Aurora Australis, a 94-meter long ice-breaking ship, was ripped from its anchoring as a raging blizzard hit Mawson Station, East Antarctica, on Wednesday morning.
Efforts are being made to bring the crew back to base. However, the blizzard conditions are hampering the operation.
Footage recorded from inside the stricken vessel shows strong gusts of ice and snow battering the upper deck.
The incident happened as 130mph winds were recorded in the area. While the ship remains trapped in the Horseshoe Harbour, authorities say there is no immediate danger of oil seeping into the ocean.
"Sixty-eight expeditioners and crew remain on board the Aurora Australis, which remains aground… All continue to be safe and well," a government statement said Thursday.
The spokesperson for the Australian Antarctic Division added that a breach in the ship's hull has been discovered "in an area of the ship that poses no risk to the stability of the vessel or of fuel leaking into the environment".
"The crew continue to monitor the hull," they added.
The ship is capable of remaining at sea for approximately 90 days and has an average speed of 30kph. It's reinforced bow is designed to cut through pack ice up to 1.2-meters thick, which is quite rudimentary when compared with larger icebreakers.
The Aurora Australis had been carrying out marine science close to the Kerguelen Plateau region when it stopped to restock supplies at Mawson Station.
P&O Maritime Services are the registered owners of the vessel, which has been used to transport cargo and expedition teams to the Australian government's bases on the icy continent.
The company has said it could take up to three days to assess the full damage.