Mass brawl in Belgian refugee center over woman refusing to wear headscarf (VIDEO)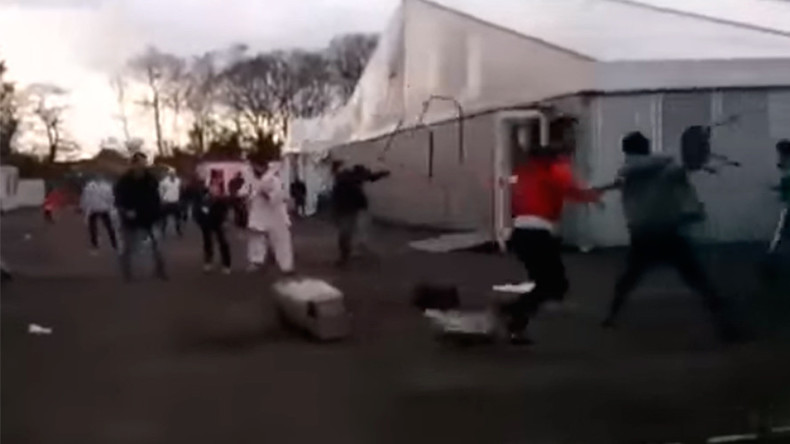 About 100 refugees from various countries clashed with each other in a massive fight in a refugee shelter in Belgium that left seven people injured. The brawl occurred amid a dispute over a woman refusing to wear a headscarf.
The riot occurred in the town of Leopoldsburg, Belgium, and involved Syrian, Afghan and Iraqi refugees fighting with each other, Belgian media report. The refugees split up into two groups, with Syrians and Iraqis clashing with Afghans.
In a video of the fight published on YouTube, the refugees can be seen pulling no punches, bringing to bear plastic chairs, broomsticks and rubbish bins. The scuffle then spilled over into clashes with police, who were immediately deployed to the scene.
As a result, seven people sustained injuries and one of them was hospitalized. Eleven refugees were detained for deliberate assault and destruction of property. Most were later released.
"The four that [started the fight] have been transferred to a detention center. The seven others are individually housed and distributed in other reception centers in Flanders," An Luyten, a spokeswoman for the Red Cross in Leopoldsburg, told Belgian HLN News.
The brawl was caused by a dispute over a Syrian woman refusing to wear a headscarf, for which she was bullied by several Afghan refugees.
"Two or three Afghans had been targeting a young girl from Syria for a couple of days because she was not covering her head… which is weird, because several other girls were also not wearing a headscarf. It is not clear why they were after this girl in particular," Luyten told Flanders News, commenting on the incident.
The dispute divided the camp, eventually growing into a fight between Syrians and Iraqis defended the woman, and Afghans expressed their outrage.
Theo Francken, the Belgian minister for asylum and migration, condemned the incident and denounced it as "unacceptable."
"I find it totally unacceptable that some young Afghans find it necessary to tell Syrian girls to wear a headscarf and that they should not dress like Western girls," he said, as quoted by HLN News.
"They come here, they are guests here. We are not theirs. They have to adapt to our rules," he added.
Wouter Beke, the mayor of Leopoldsburg, even suggested to separate people of different nationalities living in the shelter as well as to separate single men from families. However, these proposals were rejected by Francken, who said such measure could send a wrong signal and "encourage segregation rather than integration."
You can share this story on social media: