Ceasefire in Syria to commence at midnight on Feb. 27 – Russia & US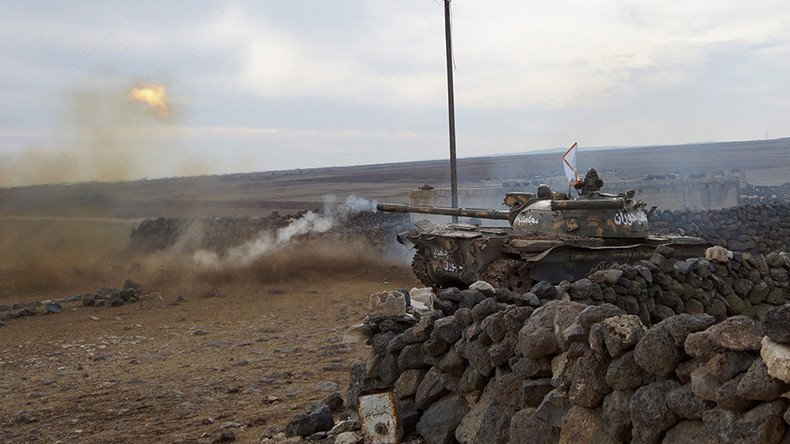 The US and Russia have adopted "Terms for a Cessation of Hostilities in Syria" and propose that a ceasefire start on Saturday at midnight Damascus time. Terror groups, such as ISIS and Al-Nusra, are not part of the truce.
PUTIN'S FULL STATEMENT: Syrian ceasefire to begin on February 27, real chance to end bloodshed
According to the statement, the truce will "be applied to [all] those parties to the Syrian conflict that have indicated their commitment" to accept its terms. It will exclude Islamic State, Al-Nusra Front and "other terrorist organizations designated by the UN Security Council."
The ceasefire plan also stipulates that other parties should indicate "their commitment to and acceptance of the terms for the cessation of hostilities" by no later than 12:00 (Damascus time) on February 26.
In terms of GMT, the ceasefire is due to take place on Thursday at 22:00, and all the parties should voice their agreement by 10:00.
President Vladimir Putin said he had a telephone call with Barack Obama and both the leaders welcomed the plan, praising it as an important result of several rounds of closed talks.
Putin noted strikes on terror targets are to continue.
"As for ISIS, Al-Nusra and other terror groups – regarded as such by the UN Security Council – they are totally exempt from the truce," he said. "Strikes against them will continue."
Moscow and Washington are to work together to determine which groups will not be targeted.
"This is a real chance to stop the bloodshed in Syria," as well as to deliver humanitarian aid, Putin said in a televised statement. Russia is to exercise its influence on Damascus, he said, adding that he expects to see the same effort from the US with regards to the opposition forces and allies.
According to the joint statement, Russia and the US are also to set up a communications hotline and possibly a working group to exchange information after the cessation of hostilities comes into effect.
The document also announces the establishment of an International Syria Support Group (ISSG) Ceasefire Task Force under the auspices of the UN. It will be tasked with identifying territories held by terrorists, ensuring communications between all parties in order to "rapidly de-escalate tensions," and reporting any "persistent non-compliant behavior by any of the parties."
Riad Hijab, a coordinator for the Supreme Negotiations Committee – a group of Syrian opposition forces backed by Turkey and Saudi Arabia – also confirmed that a provisional agreement has been reached. He added that the deal would be "according to international guarantees."
State Department spokesman Mark Toner said that the end of hostilities in Syria needs to be implemented by all groups, including Turkey.
"So as part of a cessation of hostilities, it's incumbent on all the groups within Syria to either buy in or buy out, and if you buy out and if you don't – if you refuse to participate, then you're making your decision and you're making it clear that you don't, and that's ultimately the decision of each of these groups on the ground … We've been very clear we want to see Turkey stop its shelling," Toner said during a briefing.
German Foreign Minister Frank-Walter Steinmeier also welcomed the deal, saying that a cessation of hostilities is "within reach [and] as close as never before in years," while adding that "it would be a much-needed success and a real ray of hope for the people of Syria, when perseverance, tenacity and patient negotiation would finally pay off."
The announcement comes just a day after multiple blasts rocked the Syrian cities of Damascus and Homs, claiming the lives of more than 114 people and wounding hundreds.
A series of explosions hit the Sayeda Zeinab district in the south of Syria's capital Damascus on Sunday. At least 83 people were killed and almost 200 injured when two suicide bombers reportedly blew themselves up in the crowd gathered in the area of the first blast.
Earlier on the same day, at least 34 people died in a double bombing attack in Homs. According to some reports the death toll in the incident reached 46 with more than 110 injured.
On Sunday, Syrian President Bashar Assad said Damascus is ready for a ceasefire, but will not tolerate terrorists exploiting it to restore their positions, adding that the Syrian Army will still continue fight Al-Nusra and Islamic State, as well as radical Islamist Ahrar al-Sham and Jaysh al-Islam.
You can share this story on social media: