Radioactive device feared stolen by ISIS found outside petrol station in Iraq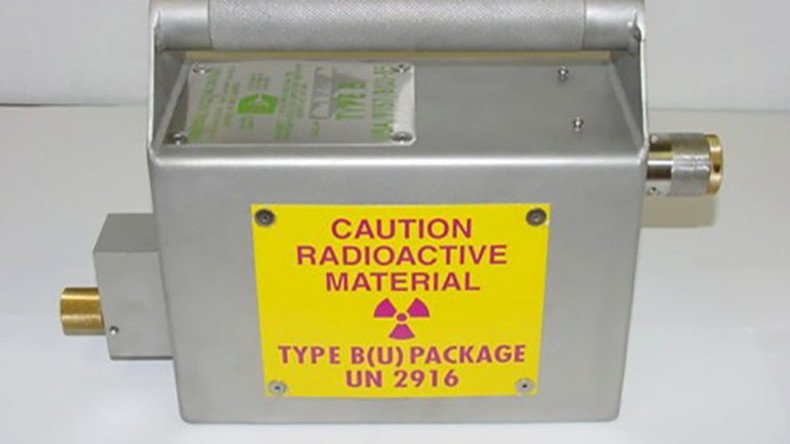 A potentially lethal radioactive industrial scanner, spirited away from an Iraqi oil facility last November, has been recovered, after thieves failed to put it to use, and decided to dispose of it instead.
The device, used to test pipeline integrity with gamma radiography, contained up to 10 grams of Ir-192, an isotope of Iridium, when it was found next to a petrol station in Zubair, a town in the Basra province, still in its original laptop-sized casing.
"A passer-by found the radioactive device dumped in Zubair and immediately informed security forces which went with a special radiation prevention team and retrieved the device," said Jabbar al-Saidi, the chief of security panel in Basra provincial council.
"After initial checking I can confirm the device is intact 100 percent and there is absolutely no concern of radiation."
The station was about 50 km from the storage facility, belonging to US oil & gas services company, Weatherford, from which it had been taken three months ago.
"After failing to take it out of the town, the perpetrators decided to dump it. I assure you it is only a matter of time before we arrest those who stole the radioactive device," said Jabbar al-Saidi, who previously expressed concern it might have found itself in the hands of Islamic State terrorists.
The official previously said that there were "no broken locks, no smashed doors and no evidence of forced entry at the facility," suggesting that the theft was an inside job.
Weatherford has exchanged public barbs with the owners of the scanner, SGS Turkey, another oil services firm, over who was responsible for the lapse in security.
SGS Turkey assured that the "the source was close to the end of its useful life," and that the radiation threat would be "very weak."
But, the International Atomic Energy Agency had to be alerted, as Ir-192 is classed as a Category 2 source of radiation – sufficiently dangerous to cause lethal damage to those nearby even if simply left exposed, and capable of contaminating a larger area if unleashed in a weaponized form.
Last year, AP reported that Russian-speaking gangsters from the post-Soviet republic of Moldova were thwarted when attempting to sell cesium to Islamic extremists on four occasions in five years, by international security organizations.
There have also been official US reports of Islamic State using other outlawed weapons, and deploying mustard gas it manufactured itself in Iraq and Syria.
You can share this story on social media: