Ukraine-EU agreement a 'George Soros road to nowhere' - Keiser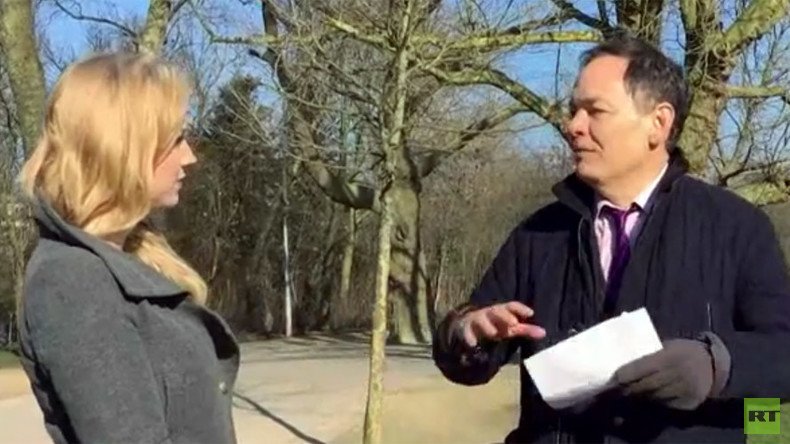 Financial analyst and RT host Max Keiser blasted the Dutch Ukraine-European Union Association Agreement referendum, branding it a "George Soros road to nowhere" that will flood the EU with Monsanto's GM "food".
Keiser was in Amsterdam this weekend where he spoke with Pirate Party activist Ancilla Tilia in an attempt to dive deeper into the treaty's details.
The Dutch electorate goes to the polls on April 6 to decide whether they want to establish an agreement to bring about closer political and economic ties between Ukraine and the EU.
Keiser is wary of the role special interests groups are playing, citing Monsanto and its drive to expand the use of GM "foods" in the Ukraine as well as George Soros and "his project to nowhere."
"This is like a George Soros pet project to get the Netherlands wrapped up in the Ukraine so he can work out his own frustrations, inner turmoil and psychological baggage," said Keiser. "Haven't we had enough of George Soros?"
He fears the agreement is "bull" and its passing could result in Monsanto's GM seeds being used next to Russia.
"They have (US diplomat) Victoria Nuland, who did that coup. Her husband (Robert Kagan) is a lobbyist for Monsanto. They want to put in genetically-modified seeds into the Ukraine, which is right on the border of Russia and Russia is saying 'we don't want genetically-modified seeds because it's poisonous, it's carcinogenic'," said Keiser.
Meanwhile, Tilia and her party are aiming to educate the public on the facts surrounding the referendum given what she believes is a lack of balanced, open, and diverse discussion about it within Dutch media.
"There is a campaign going on for people not to inform themselves," said Tilia. "People are saying it's boring, don't read it... so most of the points for either vote are quite emotional arguments."
Keiser was keen to find out from Tilia her top three reasons Dutch people would vote "Yes".
After struggling, she said, "Help poor Ukrainians, make money because Ukraine has very fertile soil (a reference to GM crops), and…...don't be a douche!"
You can share this story on social media: