'Thou shalt not kill': Pope Francis calls for worldwide ban on death penalty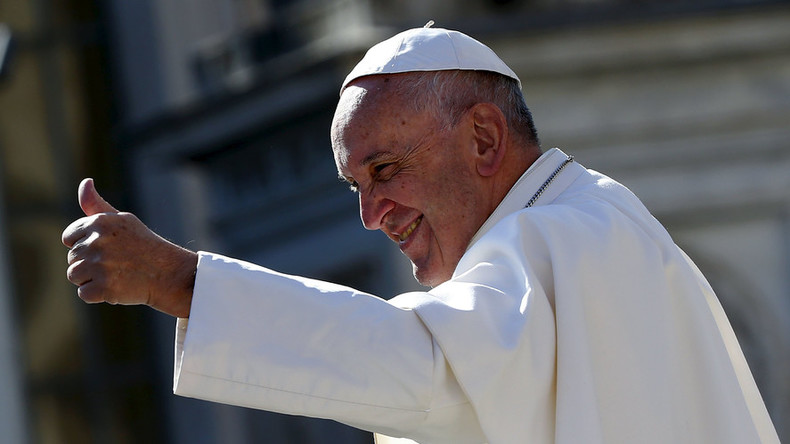 In a heartfelt plea, Pope Francis has called for the death penalty to be abolished across the globe. The pontiff said the holy commandment, "Thou shalt not kill", should be applied to both the innocent and guilty.
"I appeal to the consciences of those who govern to reach an international consensus to abolish the death penalty," the 79-year-old Pope said, addressing tens of thousands of people in St. Peter's Square on Sunday.
Even the criminal "keeps the inviolable right to life," said Pope Francis.
The Argentinian pontiff urged Catholic leaders all over the world to work for a moratorium on executions during the Church's current Holy Year, also dubbed Extraordinary Jubilee of Mercy, which ends in November.
READ MORE: Russian Orthodox Patriarch, Pope hold historic meeting, sign call to end persecution of Christians
"The commandment, 'Thou shalt not kill' has absolute value, and concerns both the innocent and the guilty," and even criminals "maintain the inviolable right to life, the gift of God," Pope Francis said.
According to the Catholic leader, there was "a growing opposition to the death penalty even for the legitimate defense of society."
"A sign of hope is the development, in public opinion, of a growing opposition to the death penalty. Indeed, modern societies have the ability to deal with crime without removing permanently the one who has committed it a chance to redeem himself," said the Pope.
READ MORE: Pope Francis compares church to 'field hospital,' talks prison & homosexuals in newest book
Currently, at least 30 countries, including the US, China and India use the death penalty. The annual report by Amnesty International calls for an end to capital punishment, saying it "breaches two essential human rights: the right to life and the right to live free from torture."
READ MORE: Global execution rate jumps by nearly 15% in 2013
As of July 2015, 101 countries had abolished the capital punishment for all crimes, according to the human rights group. However, Saudi Arabia executed more people in 2015 than it did in 2014. At the beginning of 2016, the country beheaded 47 people, including a prominent cleric.