Rally turns into street rave as 1000s in Sydney march against lockout laws
Published time: 21 Feb, 2016 09:05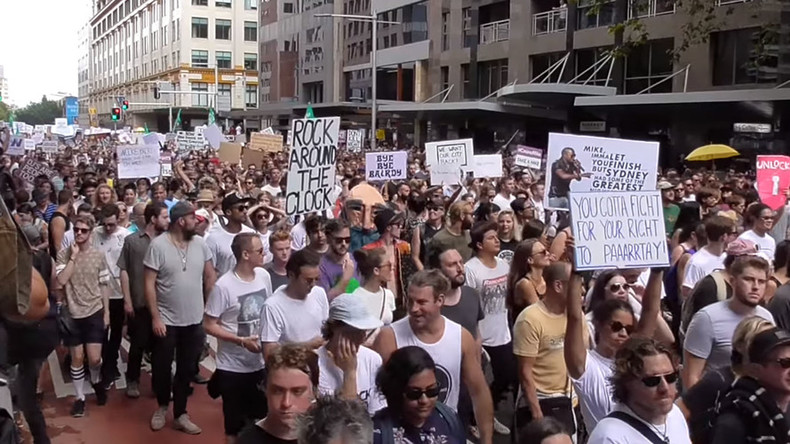 Alcohol-fueled Sydney had its fun cut short with lockout laws prompting early shutting of bar and club, but a rally in the city turned into one giant dance party to protest the measure. Thousands showed up.
"The lockout laws have seen Sydney's night life leached away while the violence and aggressive atmosphere has just spread to other areas," Adrienn Lord, 28, told AAP on Sunday, on the trek from Belmore Park to Hyde Park.
Under the new regulation, establishments are to turn people away by 1:30, sell the last drink by 3:00, and shops won't be able to sell alcohol past 10:00pm. The measures were introduced because Sydney police couldn't cope with so much drunken debauchery, often marked by fatalities in street fighting.
Now the people are out to protest the NSW government keeping the laws, while emergency service workers and police are pushing in the opposite direction.
READ MORE: The morning after: Australia opens first hangover clinic
As they marched, people carried signs saying: "We hit the dance floor, not each other" and others.
And while the emergency services swear by the law's effectiveness, those protesting the lockout say the violence has simply migrated to other corners of the city.
"All assaults have gone down by 32 percent and the number of severely injured persons has also gone down," Dr Tony Sara at St. Vincent's Hospital said. "Prior to that, it was scores every year."
As to the view that the violence had migrated together with the alcohol to other neighborhoods, Sara rejected the notion entirely as propaganda by alcohol producers. The one point where Sara caved in was on the prospect of loosening the law's grip on live music venues, something he says "could be a good idea."
Fatal repercussions and large social fallout from excessive drinking have made it into an Australian report on consumption in January. It came out with some curious figures – that the country's main consumers of alcohol represent 20 percent of the population, and if that 20 percent were to cut down their intake to within recommended guidelines, consumption in total across Australia would fall by 39 percent.
READ MORE: Most alcohol industry profits come from problem drinkers - studies
"The alcohol industry is totally dependent on risky drinking," Michael Thorn, CEO of the Foundation for Alcohol Research & Education, said. "This is its dirty little secret. It's an industry built on identifying, targeting and exploiting its best customers."