SodaStream goes pop? May close plant because Israel govt won't renew permits for Palestinians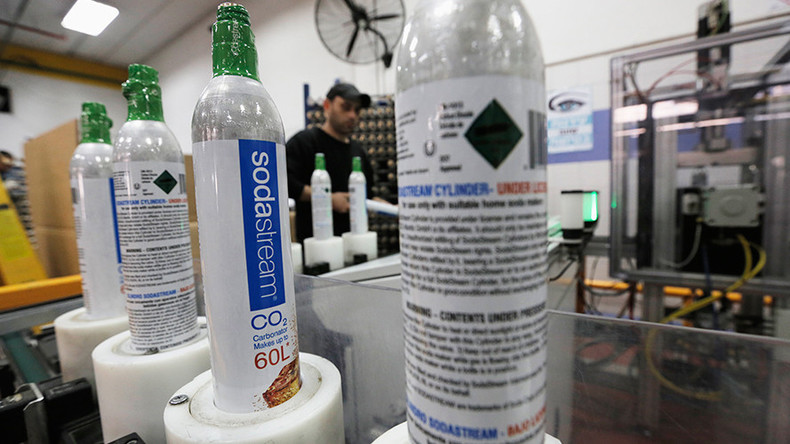 Manufacturer of home soda machines SodaStream may shut down its factory in Israel's south if the government doesn't renew permits for 74 of its Palestinian workers, the Jerusalem Post says.
Tel-Aviv-based SodaStream may shortly have to shut down its factory in Lehavim, CEO Daniel Birnbaum said on Wednesday. The reason being the Israeli government's reluctance to issue permits for Palestinian employees, ranging from assembly line workers to managers.
"Most of these employees have been with us for six years, and I've been begging the government to let me keep them," Birnbaum was quoted by the Jerusalem Post as saying. "But they won't let my 74 continue to work. It's just unbelievable," he added, noting there are over 100,000 Palestinians working in Israel every day.
Current permits, expiring at the end of February, were given to 74 SodaStream employees after the company's former main factory was closed in 2015. The work permits were restricted to Palestinian employees who are married with children, according to media reports.
Last year, 500 Palestinians lost their jobs due to SodaStream's withdrawal from the industrial zone in Mishor Adumim, considered an illegal settlement in the West Bank. The reasons for closing were purely financial, the company said, although the media say SodaStream might have been forced out of Mishor Adumim by the BDS (Boycott, Divestment, Sanctions) movement, which accuses the enterprise of operating on Palestinian land and discriminating against Palestinian workers.
READ MORE: Israel's SodaStream closes main UK store after 2-yr boycott campaign