Shocking footage allegedly shows abuse & torture in Russian prison (GRAPHIC VIDEOS)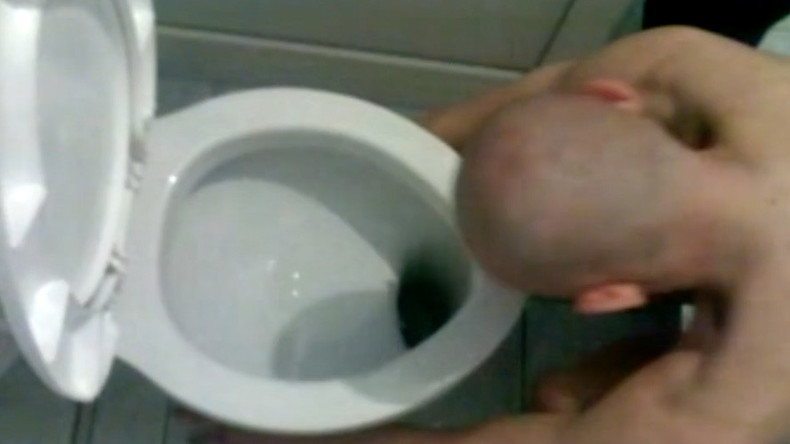 A Russian news website has released video footage which allegedly depicts extreme cruelty towards prisoners in a male penal colony in Russia's Ural region. Torture and sex slavery are allegedly routine. An investigation has been launched since the report's release.
Two sickening videos were posted by Yekaterinburg news website 66.ru. One of them shows a naked man having his head dunked in the toilet, which is then flushed. In another video a bruised person lying on the bathroom floor is seen being urinated on.
WARNING: GRAPHIC IMAGES
Sexually abused, beaten, and urinated on by fellow inmates as guards allegedly turn a blind eye in Russian prison#Russia

Опубликовано In the NOW 18 февраля 2016 г.
The news outlet alleges these are examples of what happens to newcomers refusing to abide by the prison's unwritten rules. As soon as a convict arrives at the Yekaterinburg male Penal Colony No2, he finds himself isolated with other newcomers and gets instructions on the principles of life working in the place, the website reports. If a convict dares to disobey, prison staff and accomplices beat him up, as seen in the video.
Prisoners are allegedly forced to sign documents obliging them to become sex slaves should they say anything about the alleged beatings and torture conducted by the colony's staff.
WARNING: GRAPHIC IMAGES
"According to our information, horrible things take place in Penal Colony No2. These things fall under certain 'rituals,' 'mechanisms' that are carried out by the colony's staff with the help of 'activists'. These actions may only be qualified as criminal. The accomplices film these videos on purpose, to teach others a lesson. They also use these videos to later blackmail the victim, threatening to post the video online or to show it to his friends and family. To avoid this, the convict has to fulfill all their requirements," said Dmitriy Rozhin, a member of the public monitoring committee of the Sverdlovsk Region.
Journalists of 66.ru reached out to the General Directorate of the Federal Penitentiary Service (GDFPS) of the Sverdlovsk region, showing them the documents the convicts were allegedly forced to sign, subjecting them to sexual slavery. The GDFPS press secretary, Aleksandr Levchenko, said those documents had no legal leverage.
"This is just paper to me. A real document has to be registered and filed. I too can write whatever I wish," Levchenko told 66.ru.
He also denied that the videos which the newsroom got their hands on could be seen as evidence of violence.
"When it comes to the videos, the place where they are filmed has to be identified. Without it any accusations are unsubstantiated," Levchenko said, adding the footage has to be dated as recent allegations of torture in the same prison were illustrated by a video from 2008 mass unrest in a completely different colony.
Russia's investigative committee has launched a probe into the case to check the information provided by the news outlet, an official statement says. The investigation is set to determine whether the torture of prisoners took place at the colony and whether the colony officials could be charged with misuse of power.