'Dogs allowed, Bankers forbidden!' French restaurateur bites back over expansion loan denials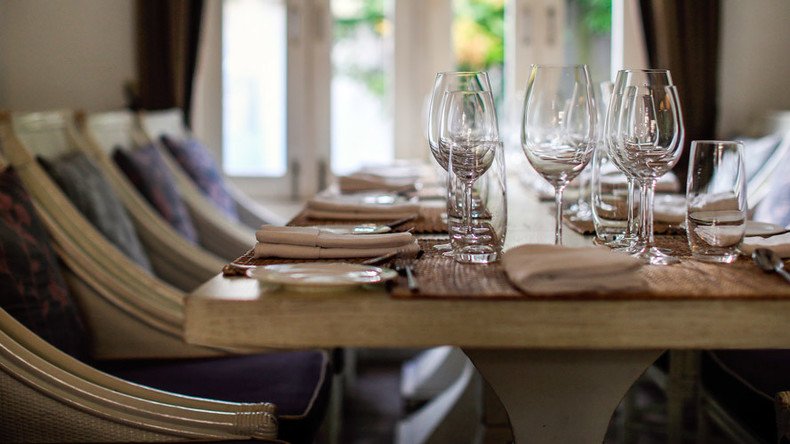 A young French restaurateur has banned bankers from eating in his establishment as his way of getting back at the industry which treated him "like a dog" by repeatedly denying a loan for expansion despite strong economic performance of his venue.
"Dogs allowed, Bankers forbidden!" reads the billboard at the entrance of Richelieu's Stables in Rueil-Malmaison, in the Paris suburb, instead of the daily chef's specials. The only way bankers can get service is if they pay a €70,000 entrance fee which equates to the loan amount which numerous banks denied.
The 30-year old owner of the gourmet listed in the prestigious Michelin Guide, Alexandre Callet, says he put up a sign as a measure of getting back at the French banking sector, after bankers refused to honor his application for just €70,000 ($78,000) to open a second location.
"The moment I recognize a banker who handled my case or a banker from a nearby bank they are not allowed in. I'm telling them you will not enter unless you pay a fee of €70,000," he told Sputnik France News.
Callet said that during his repeated attempts to apply for a loan he was constantly humiliated by the bank staff, which forced him to ban service for them.
"I believe in reciprocity," Callet told The Local. "I had to respond. 'If you hit me, I'll hit you...they have treated me like a dog, so I have denied them access."
The young businessman blamed the French bureaucratic system for refusing him a loan for expansion for the Michelin guide eatery, which many film stars visit. Despite having a great reputation, he believes that Richelieu's Stables strong performance of over €300,000 ($334,000) should have been enough to secure him the cash needed for expansion.
"In 2015, we achieved our best year, not only in terms of profitability but also the level of turnover," Callet told Le Figaro. "It should have been a formality, since my credit is fully repaid and the restaurant generates a great margin."
This is not the first time that Callet has been denied by the banks. In 2008, when he opened his first restaurant, credit was refused more than 20 times.
"I have never had financial problems and yet I find myself in this situation," he told The Local. "That's why we have so many businesses in France who have to resort to crowd funding. Bankers are not doing their job."
You can share this story on social media: