Moment of deadly Ankara blast caught on CCTV (VIDEO)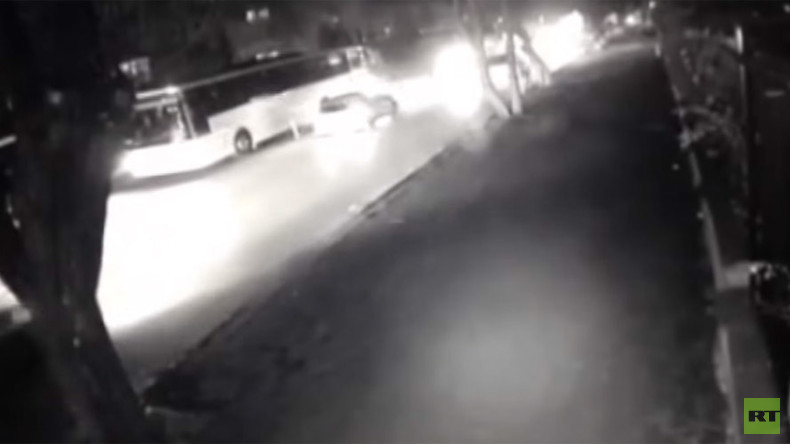 The moment that a deadly car bomb explosion in central Ankara killed at least 28 people and left over 60 wounded has been caught on CCTV video, which captured a bright flash that engulfed a military personnel bus in the middle of the street.
READ MORE: At least 28 dead, 61 injured as blast hits military bus in Turkish capital Ankara
The black and white CCTV footage shows a quiet street in the center of the city, with slow car traffic and a pedestrian leisurely walking by. A bus is seen parked across the street, in the vicinity of the military headquarters, the parliament and the prime minister's office. Nothing was spelling death in the air, when suddenly a bright flash turns to a black screen, taking the lives of at least 28 people, and injuring 61 others.
Ambulances rushed casualties to the Ankara Numune Hospital with authorities confirming that car explosion targeted military personnel.
"We do not yet know the perpetrators of this attack," Deputy Prime Minister Numan Kurtulmuş announced quoted by Hurriyet. "This attack did not only target our military personnel in those shuttles."
While authorities launched an investigation the terror act, a high-level security meeting was convened by President Recep Tayyip Erdoğan at the Presidential Palace. The attack was strongly condemned on all government and military levels in Turkey.
Turkey has been hit by a series of attacks in recent months, as it is engaged in a fierce battle against the Kurdistan Worker's Party (PKK) in the country's southeast and on the border with neighboring Syria. In October two suicide bombers in Ankara killed 101 people during a demonstration of peace activists near Ankara's main train station.
You can share this story on social media: