Apoplectic Pope: Francis loses temper after crowd pushes him onto wheelchair user (VIDEO)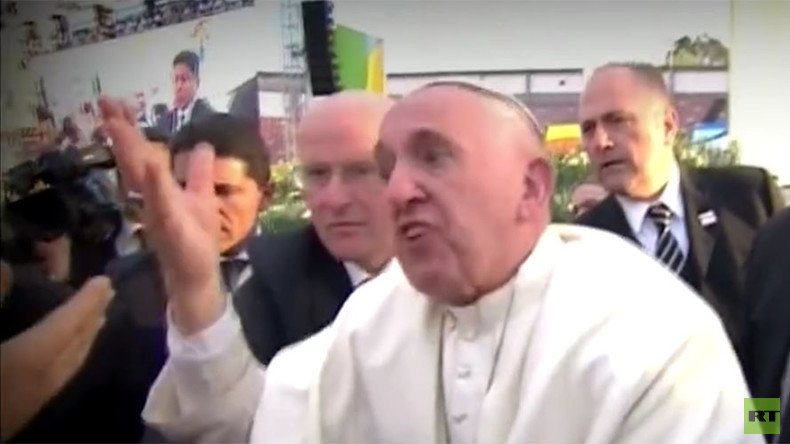 Pope Francis has proven he is "only human" after losing his cool with some eager worshippers in Mexico, who pushed him on to a man in a wheelchair.
The pontiff was visiting a stadium in the western city of Morelia as part of his six-day trip to Mexico when people in the crowd tugged at the pope, pulling him closer and ultimately onto a man in a wheelchair.
Even after the pope fell on the disabled man's head the crowd persisted tugging, causing him to lose his cool. Francis tells the crowd in Spanish: "Don't be selfish, don't be selfish."
While his actions were a change from his usually calm demeanour, many people defended the Argentinian pontiff's outburst online.
"He's been visiting the slums, he's in a different climate, he'd be tired, he's trying to please everyone knowing that he's vulnerable to rough people in the crowds and is trying to do the right thing then this almost stumbles him. Anyone would lose their cool just asking for some common sense to prevail, to be gentle since he's just a simple old man," Emily Burton wrote on Facebook.
"Well, He did told us that even He could get angry too.... Remember when he said that He will punch us if we insults His mother?" Janes Sugianto Limantara commented.
Others reiterated the point he is "only a human being".
The pope got into the swing of things on his way to Mexico, trying on a sombrero during his flight over. Popewatchers were quick to point out that Francis was following in the footsteps of his sombrero-wearing predecessors:
You can share this story on social media: