Police teargas locals protesting new gold mines in Artvin, northeast Turkey
Published time: 17 Feb, 2016 10:31
Edited time: 17 Feb, 2016 16:38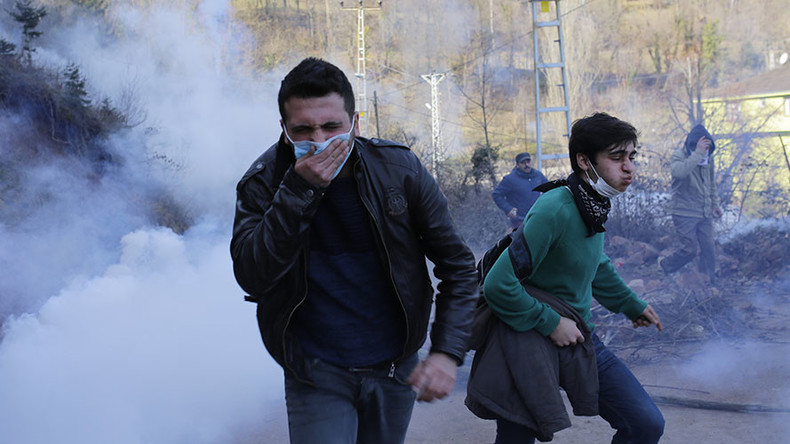 A company planning to start gold and copper ore mining in the Cerattepe region in northeast Turkey has encountered fierce opposition from green activists and locals. Police used tear gas in the standoff.
"We defend our right to live and we will not stand down. The police and gendarmerie protect the company's vehicles, but the state should be standing with us,"Today's Zaman quoted local activist and Green Artvin Association Head Nur Neşe Karahan as saying.
An estimated 2,000-3,000 locals rallied on Monday on the road to the site where the Cengiz Holding Mining Company is planning to cut down a virgin forest to start construction on gold and copper ore mines. Protesters blocked the road with about 300 private vehicles to prevent the mining company and police from entering the area with heavy equipment.
According to Hasan Yüksel from the Green Artvin Association, who spoke to the Açık radio station, there were about 800 police officers present, plus some 50 private security guards for the Cengiz Holding Company.
Law enforcement were prepared for the upcoming conflict and had warned the Artvin State Hospital to get additional paramedics ready in the emergency room, the Hürriyet Daily reported.
Protesters refused to disperse and clashed with police and security guards hired by the mining company. Police fired huge amounts of tear gas and the whole site became engulfed in dense smoke.
Law enforcement brought in several trucks to clear the way, but didn't make much headway. Finally, police had to erect barricades to separate the mining company's vehicles and the demonstrators.
Deputies from Turkey's main opposition Republican People's Party (CHP), Uğur Bayraktan and Barış Karadeniz, reportedly joined the protesters in Artvin.
In Uğur Bayraktan's words, the order to clear the way and disperse the protesters came from Turkey's Interior Minister Efkan Ala.
"We were able to convince all ministers except Ala," Bayraktan said, promising to meet the minister once he gets back to Ankara, the Hürriyet Daily reported.
Opposition activists organized a rally in solidarity with Artvin in İstanbul's Üsküdar neighborhood. The demonstrators from the Black Sea Rebellion Platform and Arhavi Nature Protection Platform played Black Sea region folk music and carried banners, reading: "We can do without gold, but not without Artvin", "The people of Artvin are not alone" and "No entry to Cerattepe," Today's Zaman reports.
The Cengiz Holding Company started its gold mining efforts in Cerattepe area in 2012.
In 2014, a court decision halted the company's project, after an environmental impact report on the mine had been considered.
However, the company appealed the decision to the Council of State, Turkey's highest court for cases related to administrative law. A new report was approved by the Ministry of Forestry and Water Affairs in June 2015.
Shortly after, on June 21, the locals set up camp and began protesting against the company's mining efforts.