Fukushima medical survey confirms 16 new child thyroid cancer cases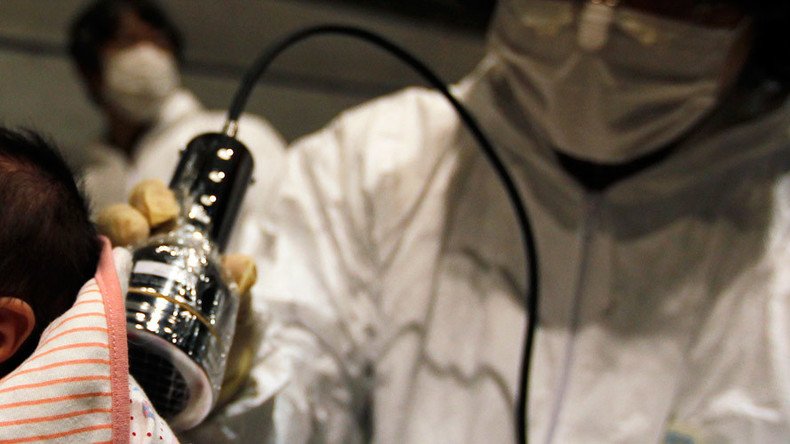 At least 16 cases of thyroid cancer in children have been confirmed in a follow-up medical survey of those exposed to the 2011 Fukushima nuclear disaster. According to the prefectural government panel, at least 35 more minors thought to have the disease.
The prefectural government is giving medical checkups to all 380,000 children aged 18 or younger at the time of the accident at the Fukushima Daiichi plant in March 2011. Since the latest checkup began in April 2014, 16 children have been confirmed to have the potentially deadly condition that stems from radiation exposure, according to Japan Today.
In addition, the combination of two surveys showed that now at least 116 children are suffering from thyroid cancer with at least 50 other minors suspected of having the disease. Medical testing facilities involved in the study said that 51 children in the second round of the survey had tumors ranging from 5.3 millimeters to 30.1 mm in size.
The medics also estimated that the external exposure of 29 children in the four months following the catastrophe had gone up to 2.1 millisieverts. Ten minors had been exposed to less than 1 millisievert.
Furthermore, five of the 16 new confirmed cases emerged since December 2015. Yet, the head of the examination panel, Hokuto Hoshi, said that it is "unlikely" that the disease was caused by radiation exposure, reiterating his earlier claims that there is no direct link between thyroid cancer and the nuclear disaster.
"It is unlikely that radiation is responsible for the recently reported thyroid cancer cases, given that there are no reports of cancer among infants, who are particularly susceptible to radiation," Hoshi said in December, as quoted by International Business Times.
The committee seemed to agree and said, that "is difficult to determine the effects of nuclear radiation," claiming that continued monitoring is needed to establish the link.
You can share this story on social media: