Armed robber politely picks up pieces after calculator broken over his head (VIDEO)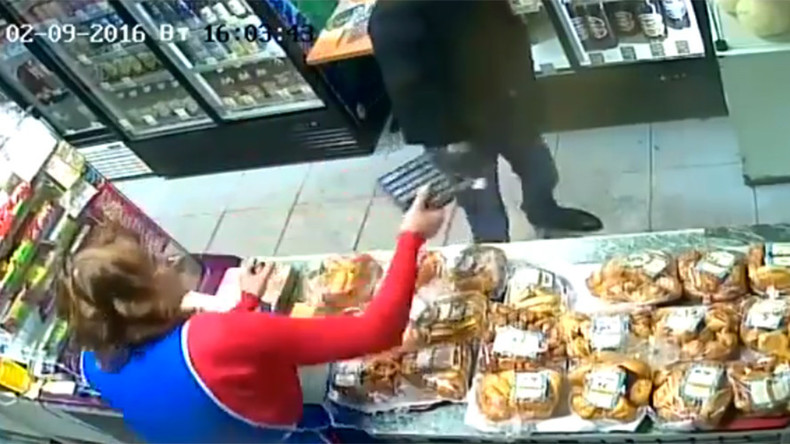 A shopkeeper experienced what may have been the most half-hearted robbery in history when a man armed with a gun kindly picked up the broken pieces of a calculator after it was smashed over his head. He then patiently waited to be taken into custody.
When the armed man walked into the store and pointed a gun at the shopkeeper, the worker wasn't the slightest bit scared. Instead, she seemed angry at the sheer nerve of the man, reaching across the counter to give him a good, old-fashioned slap.
She then disappeared out of view for a while, during which the robber waited patiently for her return. He held his gun for part of that time, but apparently became bored, putting it back inside his coat before her arrival.
The lady returned and responded with a weapon of her own – a calculator – which landed on the floor.
Despite being a criminal, the man saw no need to make a mess of the store because, after all, two wrongs don't make a right. He promptly picked up the calculator and placed it back in its rightful spot on the counter.
The lady then bashed it over his head once again, breaking it into pieces.
Once again annoyed by the mess of the situation, the robber tidied up. He picked up all of the broken pieces, handing them straight back to the worker.
The two became unlikely teammates at that point, with the shopkeeper accepting the pieces from the man as he placed them on the counter.
After the store was just as clean as he found it, the man patiently waited for the police to arrive. He was then taken into custody.
Perhaps unsurprisingly, the robber was in an intoxicated state, according to a video description on LiveLeak.
The failed robbery reportedly took place Chita, Siberia.