Murder probe launched after new deadly brawl at Swedish asylum center (VIDEO)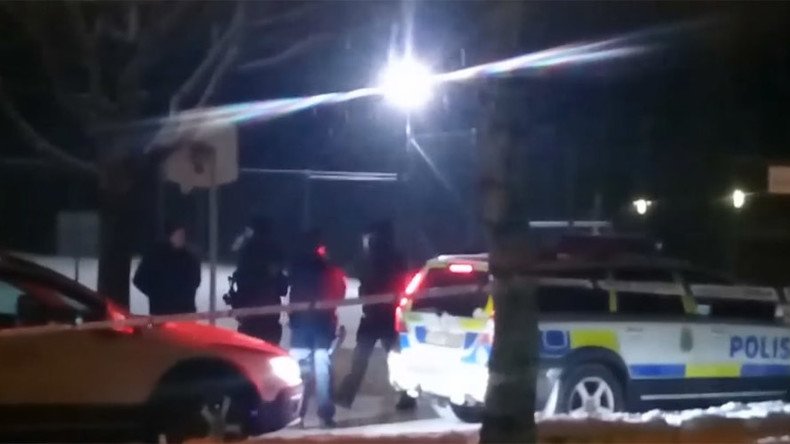 At least 1 person was killed and 3 injured after a fight broke out at a Swedish asylum center. An investigation has been launched with one suspect detained, but not yet identified.
The fight, which reportedly happened between refugees, took place on Saturday outside the Ljusne asylum center near Soderhamn, 240 kilometers (150 miles) north of Stockholm.
Police arrested one person after raiding an apartment close to the asylum center. Three more people were brought in for interrogation and later released. Footage from the scene captured the asylum accommodation surrounded by police vehicles.
"Even the two who have been released are under suspicion of murder and attempted murder, they are not [ruled out] from the investigation. The same applies to a person that we questioned earlier in the day. In total there are thus four suspected perpetrators," said Christer Nordström, Soderhamn Police spokesman, Sweden's Expressen newspaper reported.
A man in his early twenties is currently being held in custody under the suspicion of murder and attempted murder, Nordstrom said. Up to 15 people were involved in the brawl.
"We believe that most of those involved are in their 20s. But several of them left the place before we got to there," Nordstrom told Expressen.
The other three victims reportedly suffered minor injuries and were taken to a local hospital. They were then released.
The motive for the fight is not clear. Police said that a conflict between two people might have led to a massive brawl.
Two weeks ago another brawl involving around 20 people broke out at a refugee center in Orust, north of Gothenburg. Another incident occured last month, when a 22-year-old woman was attacked on her way home at a refugee center in Mölndal.
Sweden accepted over 160,000 refugees and migrants in 2015. However, the level of new arrivals has plunged since the beginning of January, when Sweden introduced systematic photo ID border checks, after stating that it has reached its limit in terms of receiving asylum seekers. A total of 140,000 asylum seekers are expected to arrive to Sweden in 2016.
You can share this story on social media: