Ukraine's interior minister: I could destroy foreign support for Kiev with media bombshell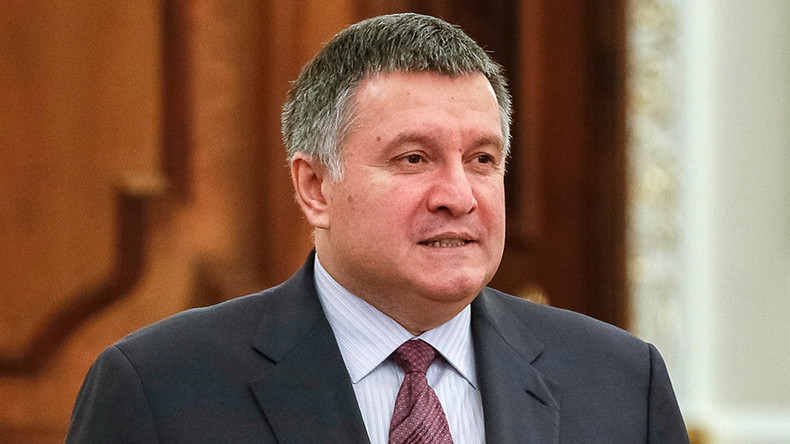 Ukraine's interior minister said he could drop a media bombshell that would force foreign sponsors to stop all support for Kiev. The claim comes as the cabinet hangs in peril over the resignation of a reformist economy minister, who quit citing covert corruption.
Aivaras Abromavicius announced his resignation as economy minister last week, saying he doesn't want to be part of the plundering of Ukraine committed by corrupt officials. The move sparked a political crisis in Ukraine and resulted in the International Monetary Fund warning that it may suspend the multibillion dollar credit line to Kiev, unless it starts a genuine crackdown on corruption.
Ukrainian Interior Minister Arsen Avakov has information that could hurt Ukraine's standing with its foreign sponsors much more than Abromavicius resignation did, he said in an interview with Zerkalo Nedeli newspaper published Friday.
"Do you doubt I could drop a media bombshell that would have an effect several times bigger than Abromavicius caused? But I don't want to take steps, which would only result in IMF Managing Director Christine Lagarde waving her hands sadly, take away the support of the country's foreign partners. Some things must be settled out of the public eye," the minister said.
Avakov was arguing that the widely unpopular cabinet of Prime Minister Arseniy Yatsenyuk should stay, regardless of its flaws.
"Finding a new balance of power [if the cabinet were replaced now] would take time and losing that time may cost the state dearly. Yes, I know that Minister X is weak and Minister Y is de facto non-existent. But they are part of the balance too," Avakov said.
The fate of the Ukrainian cabinet hangs on the thread. Abromavicius's resignation is yet to be confirmed by the Ukrainian parliament. Several other ministers, who are considered part of Abromavicius's reform team, suspended their resignations, pending a resolution to the crisis.
It was not immediately clear what kind of information possessed by Avakov could result in such a dramatic development. Considering his job, it could be evidence of crimes committed by senior Ukrainian officials, however.
READ MORE: 'Street-style brawl': Ukrainian minister throws glass of water at ex-Georgian president (FULL VIDEO)
Avakov recently made international headlines after a heated exchange with a fellow Ukrainian official, the former Georgian president, Mikhail Saakashvili. The two men traded accusations of corruption and personal insults and Avakov even threw a glass of water at Saakashvili at an anti-corruption meeting chaired by President Petro Poroshenko.