Putin holds phone call with Obama, urges better defense cooperation in fight against ISIS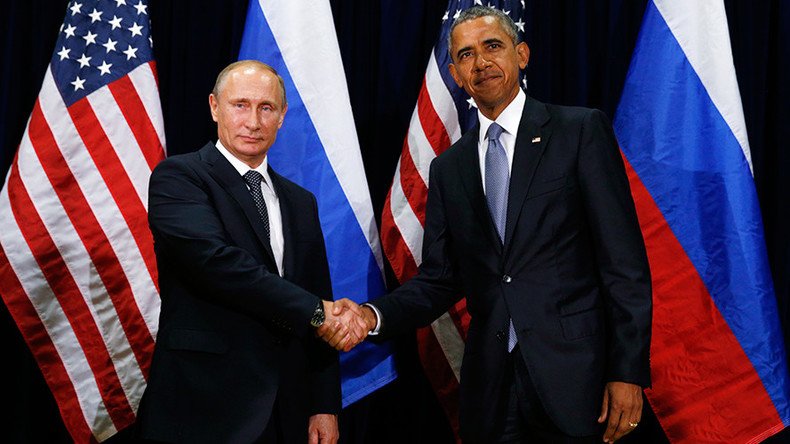 Russian President Vladimir Putin and his US counterpart, Barack Obama, discussed Syria in a phone call Sunday, with Putin stressing the need to establish better cooperation between the countries' defense ministries in the fight against terrorism.
In the telephone conversation Putin said that is important to create a unified anti-terrorism front, rejecting "double standards," the Kremlin press service said in a statement Sunday.
"In particular, the President of Russia noted the need to organise close working contacts between the Russian Defence Ministry and the US Department of Defence, which would make it possible to combat ISIS and other terrorist organisations in more effective and better-planned fashion," read the statement.
Both presidents gave a positive assessment of the International Syria Support Group (ISSG) meeting in Munich this week, which laid out a plan to end hostilities in Syria and start a real political process there.
The two leaders also stressed the "importance of rapidly implementing humanitarian access to besieged areas of Syria and initiating a nationwide cessation of hostilities," the White House statement says, adding that they "agreed that the United States and Russia will remain in communication on the important work of the ISSG."
Barack Obama also said that Russia should play "a constructive role by ceasing its air campaign against moderate opposition forces in Syria."
Russian officials have repeatedly stressed that the country's aerial campaign is directed only against Islamic State and other terrorist groups, including Jabhat al-Nusra, as well as other affiliated organizations that have been recognized as terrorist by the UN Security Council, and does not target moderate opposition forces.
The two presidents also discussed the situation in Ukraine. Putin expressed the hope that Kiev authorities would start taking concrete steps aimed at fulfilling their commitments under the Minsk Accords, including establishing direct dialogue with the Donbass region and carrying out constitutional reform.
"The conversation between Mr Putin and Mr Obama was frank and constructive," the Kremlin said.
You can share this story on social media: