1st Scandinavian women-led mosque opens in Denmark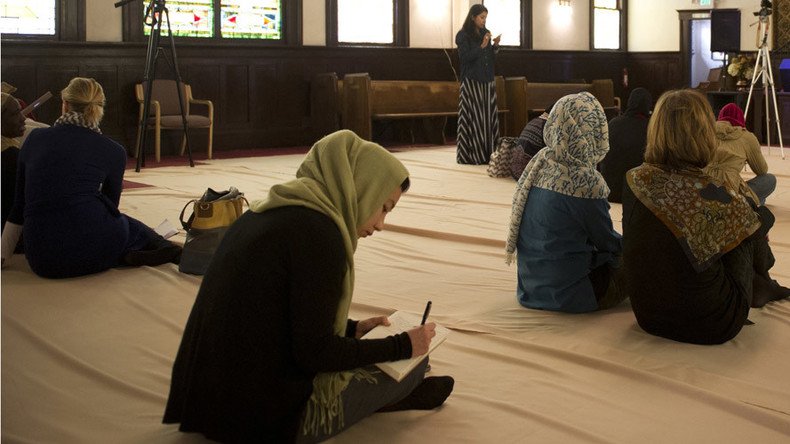 The first all-female mosque has opened its doors in Denmark. The woman behind the initiative has called the event "a feminist project" aimed at countering long-established stereotypes leading to a male-dominated church.
"We have normalized patriarchal structures in our religious institutions. Not just in Islam, but also within Judaism and Christianity and other religions. And we would like to challenge that," Sherin Khankan, the project's founder and one of the imams who will be leading prayers at the new mosque, told AFP.
Khankan told Politiken daily that she felt uncomfortable when walking into "male-dominated and patriarchal places" and compared herself to a "stranger."
"I have never felt at home in the existing mosques. The new grand mosques are unbelievably beautiful, but I have the feeling of being a stranger when I am there," she said.
Men are not excluded from worship at the Mariam Mosque, but on Friday nights, a service will be only for women.
Khankan hopes that her project will ease the tension between traditional Islam and a more modern practice of the faith.
"Many imams in this country belong to the traditional school, which does not account for the culture we live in," she said, according to The Telegraph. "Instead, they help to construct contradictions between being a practicing Muslim and a young person in Denmark. But you can love and honor several cultures and influences at once, without betraying one or the other camp."
The overall reaction toward her project has been mostly positive from the Muslim community, while the negative comments were rather "moderate," Khankan said. She explained the criticism as being due to people's lack of knowledge that there actually existed "an Islamic tradition allowing women to be imams."
Imam Waseem Hussein, the chairman of one of Copenhagen's biggest mosques, remained skeptical about the project.
"Should we also make a mosque only for men? Then there would certainly be an outcry among the Danish population," he told the daily Politiken.
All-female mosques have been previously established in several locations. A woman-only mosque opened in Amsterdam in 2005 and in Los Angeles in 2015. A similar project has been proposed in Bradford, in the UK.
While all-female mosques are a rather rare phenomenon in the world, China is said to be one of the first countries to appoint woman-imams at mosques. Its tradition to set up all-female mosques, or nüsi, goes back to the 19th century. According to 1997 statistics, there are currently around 29 such structures.
You can share this story on social media: