'Anyone know how to fly a plane?' 10 minute guide to landing 737
Published time: 13 Feb, 2016 18:15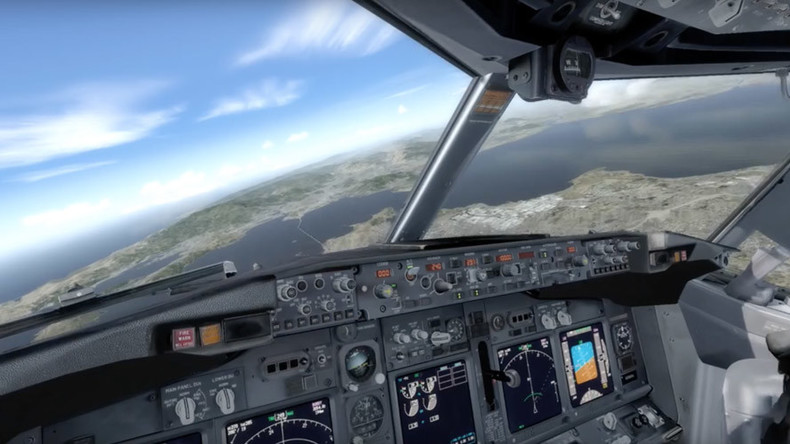 If you're ever on a commercial flight, and both pilots had "fish for dinner," a new viral video shows how to calmly tell the flight attendants, "I got this," and land the plane.
Pilot Tim Morgan made the ten minute video in response to the question on the website Quora that asked, "What should I do if the pilot passes out and I (with no flight training) have to land the plane?"
Morgan talks us through the entire video, making it look like a piece of cake.
After landing the plane, in celebration of your heroics, Morgan suggests pulling a Steven Slater: "Grab a beer from the galley, pull the emergency exit handle, and enjoy the ride down the inflatable slide."
Does it work? Well, no response video has been posted with the results of a field test, but if there are snakes or a zombie virus on your flight, it might be worth the risk.
For those of you who don't have time to watch the video, here are some of the key pointers, although we advise you to NOT solely rely on the information below to land a 737.
Just want to say good luck. We're all counting on you.
1. Put on the pilot's headset and try not to sweat too much.
2. Input the numbers that Air Traffic Control give to you as instructed. Good, autopilot is now flying this mother, you can sit back, relax and - oh wait…
3. Unfortunately, auto-pilot or an inflatable named Otto won't land it for you. You'll have to lower the flaps and landing gear using a few of the one million levers in front of you (watch Morgan's video for details).
4. You'll have to line-up the plane with a graphic of the landing strip, like they do in one of those space films when docking.
5. Before you land point that nose up so you don't dive into the ground.
6. When you hit the ground, reverse the thrust to slow yourself down and hope you stop at the right gate.
And finally, we just want to say good luck. We're all counting on you.