Free Willy: Porn site launches fundraiser to save whales
Published time: 13 Feb, 2016 12:50
Edited time: 13 Feb, 2016 14:37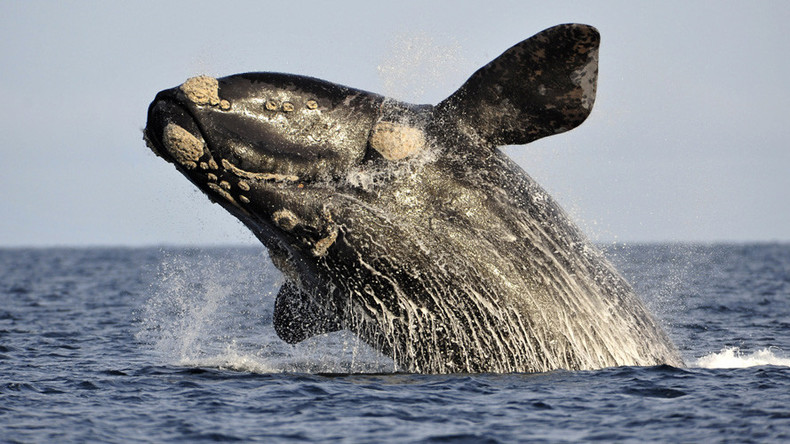 Sperm whales just got a whole new meaning thanks to a hands-on (or should that be all-hands-on-d*ck?) fundraising promotion by a porn website.
Starting Saturday, in honor of World Whale Day, a Montreal-based, multi-million-dollar porn site is asking people to "Blow your load" (safe for work link, we swear) and watch porn to help save the whales.
For every 2,000 views on the site between now and the end of February, the site will donate one cent to the Moclips Cetological Society, a Washington organization dedicated to saving the whales.
The page views counter is already up to nearly one and a half billion. That's a lot of whale lovers.
The goal is to raise $30,000, equal to six billion views, although the site usually gets about 1.2 billion views in the same time period, about $6,000 in whale money, according to PSFK.
The company's vice president, Corey Price, told BuzzFeed that the site wasn't "looking to get anything out of it" and hopes it will demonstrate "the social good our company is capable of."
The site previously supported charities for breast cancer, based on views of "breast-themed" videos, and trees, through its "Gives America Wood" campaign based on the views of "penis-themed" videos.
It might sound like a bizarre way to help save the whales, but in a world where one-third of all the data transferred online is "for a mature audience only," porn sites can reach a large and captive audience.
All kidding aside, it's tough to be a whale these days.
This year has already been marred by several incidents in which whales beached themselves, including over 100 in Chennai, India, and several cases of beached sperm whales in the eastern UK and northern Europe.
READ MORE: 12 beached sperm whales die in week of carnage on northern European coast

Last November, 337 whales in Chile's Patagonia region died in the largest beached whale tragedy to date.