RIP Philae: Scientists give up hope of regaining contact with probe that landed on comet
Published time: 12 Feb, 2016 12:37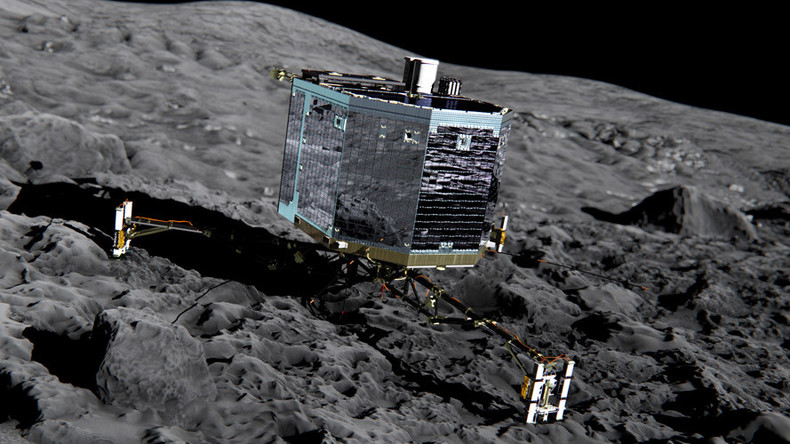 European scientists think it is probably time to say goodbye to the space probe Philae for good. The robot became the first probe ever to land on a comet, but unfortunately it lost power because its solar-powered batteries were in the shade.
The German Aerospace Center (DRL), which was in charge of the consortium behind Philae, said that the probe is now probably covered in dust and would be too cold to function.
"Unfortunately, the probability of Philae re-establishing contact with our team at the DLR Lander Control Center is almost zero, and we will no longer be sending any commands," said Stephan Ulamec, the lander's project manager at DLR.
It seems as though Philae has gone to sleep forever.
The Philae probe landed on the 67P/Churyumov-Gerasimenko comet in November, 2014. The spot where the robot eventually touched down was called Abydos. Unfortunately for those in mission control, the place was too shaded from the sun, which meant that Philae's batteries could not be recharged.
The lander has not made contact with its Rosetta orbiter since July 9, and the scientists have all but given up hope.
"It would be very surprising if we received a signal now," Ulamec said.
In June, Philae re-awoke for the first time in seven months and began to send data back to the European Space Agency (ESA).
The solar-powered lander had only been operational for 60 hours before contact was initially lost on November 15, 2014. This was again due to a lack of sunlight, which would not allow it to charge its batteries quickly enough and subsequently went into sleep mode when its power source died.
Meanwhile in October, scientists were stunned to find large quantities of oxygen on the comet, which they said could challenge theories about the formation of our solar system.
"We believe this oxygen is primordial, which means it is older than our solar system," said Andre Bieler of the University of Michigan, who added that the oxygen molecules must have existed "before or at" the formation of our solar system.
The discovery challenges prevailing existing theories about the formation of our solar system some 4.6 billion years ago.
The research community had previously ruled out the presence of oxygen on comets, because it reacts too well with other atoms, and scientists "never thought that oxygen could 'survive' for billions of years," said Kathrin Altwegg of the University of Bern, as cited by the journal Nature.
The mission began a decade ago – it took Rosetta, along with Philae, 10 years to reach the comet and drop the landing module onto its surface.
Scientists may be able to get one final look at the probe in the European summer, when the Rosetta spacecraft is expected to take some close-up photographs of the comet. Rosetta is then expected to land on the comet itself when its mission ends in September.