Israel reveals robotic anti-submarine, mine-hunting warship (VIDEO)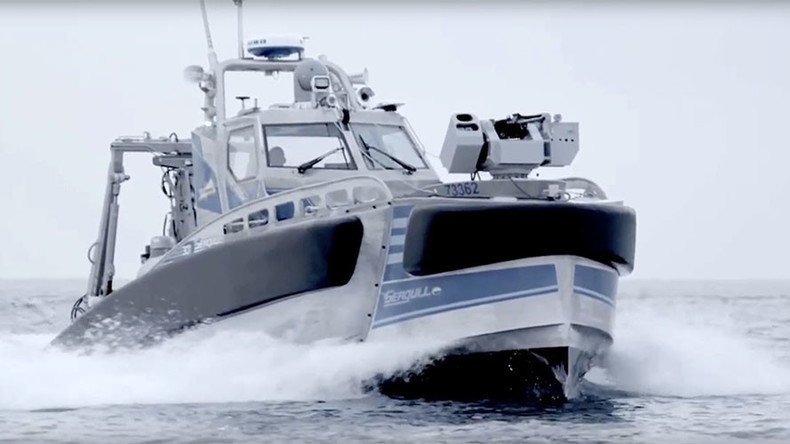 An Israeli defense company has unveiled a prototype of the 'Seagull' robot warship for anti-mine and anti-submarine operations.
The ship is a 12-meter long USV (Unmanned Surface Vessel) with replaceable mission modules. Two Seagull vessels can be operated using a single control system, from the shore or from manned ships. The vessel uses an Autonomous Navigation System (ANS) allowing it to avoid obstacles and collisions with other ships.
"Seagull changes the dynamics of anti-submarine operations by creating a threat to submarines using a cost-effective and available asset, replacing and augmenting manned assets with minimal threat from submarines," Elbit Systems said in a press release.
The company added that the system provides unmanned end-to-end mine hunting operation taking the man out of the mine field.
The vessel's primary tasks are "survey, search, detection, classification, identification, neutralization and verification," that is to say, it can scan the entire water volume in its reach, identify and destroy mines, the release claims.
The vessel can reach the speed of 32 knots (about 60kph) and carry a load of 2.5 tons.
"Today, everything in the market used to perform ASW involves very serious and heavy investment, whether we're talking about other submarines, large frigates costing hundreds of millions of dollars, or expensive aircraft like the P-8," said Elad Aharonson, director of Elbit's ISTAR (information, surveillance, target acquisition, and reconnaissance) Division as cited by Defense News outlet.
Briefing reporters on Monday, Elbit's ISTAR vice president Ben Dov said two Seagulls could conduct an ASW (anti-submarine warfare) mission comparable to that of a single frigate and its crew of dozens.
"Seagull changes the dynamics of anti-submarine operations by creating an inexpensive, unmanned threat to submarines. By transforming small, remotely operated surface platforms into advanced, highly autonomous networked systems, we're bringing asymmetry to the advantage of our customers," Aharonson said.
It's not the first attempt to introduce a robot vessel in the military: in 2014, the US Navy showed drone boats that could swarm a ship they consider a threat, or protect a bigger vessel.
You can share this story on social media: