Cologne carnival outcome: Sexual offence complaints quadruple from 2015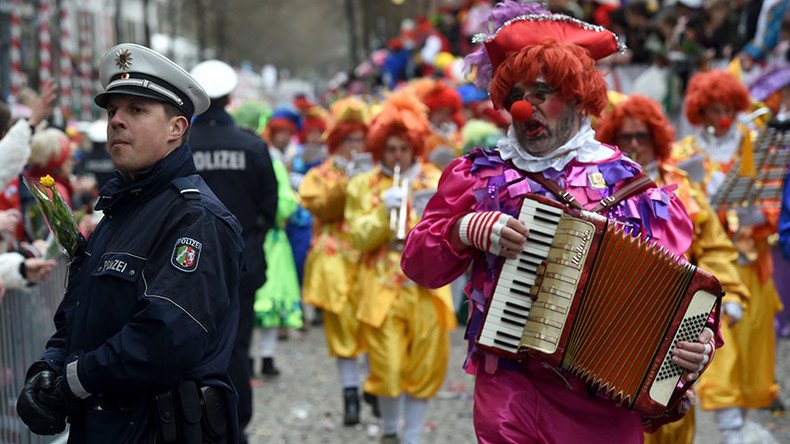 Despite tightened security and massive police presence at Cologne carnival celebrations, the number of filed sexual assaults has grown four times from the previous year.
There have been 66 complaints of sexual harassment and aggression filed to police so far, a sharp surge from last year's 18 cases registered, police report.
Following the mass New Year's Eve sexual assault of women in Cologne, authorities took all possible precautions and heightened security in the mass celebrations areas, which really help to decrease the number of crimes compared to 2015 – but not sex-related crimes.
Cologne police is in pursuit of restoring public's confidence in law enforcement after the unprecedented events on the last day of 2015, when several hundred women in Cologne were sexually intimidated, abused, beaten and sometimes robbed and raped, allegedly by young refugees from the Middle East.
The scandal emerged after media exposed that authorities ordered police to hush the true scale of the attacks. As a result Cologne's police chief was suspended, apparently for failing to ensure law and order during the New Year's Eve celebrations.
Therefore the security measures taken during the carnival week that began last Thursday and ended on Wednesday morning have been unparalleled for the Germany city.
Yet sexual aggression cases at the carnival have grown nearly fourfold this year.
Police expressed hope that the surge could be partially explained by "a change in the attitude of victims and witnesses," the Guardian quoted a police report, as both local authorities and women's associations insistently recommended all women who felt themselves sexually harassed to file complaints with police without hesitation.
In 2015, Germany accepted estimated 1.1 million asylum seekers, mostly from the Middle East, Central Asia and North Africa. There are fears that extremists from Islamic State (IS, formerly ISIS) and other terrorist organizations could use the influx to infiltrate into Europe and gain an official refugee status, while being involved in illegal activities and trying to stage terror acts.
You can share this story on social media: