Saudi Arabia's 'religious police' arrest doll mascot for breaching Sharia Law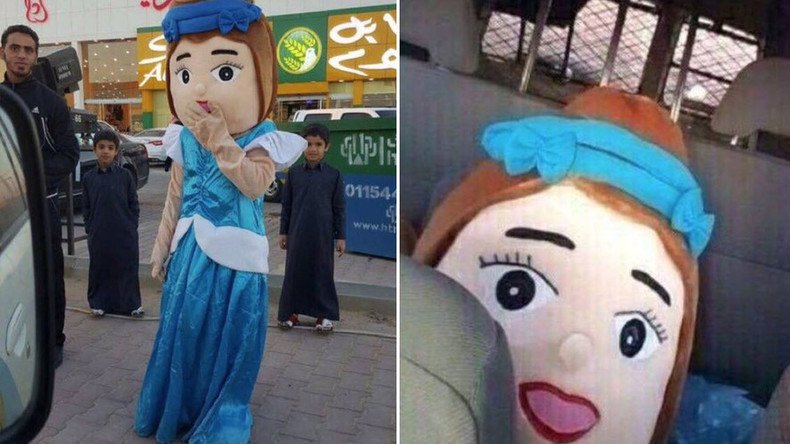 A doll mascot has been arrested by Saudi Arabia's Committee for the Promotion of Virtue and the Prevention of Vice for not wearing Islamic dress and disobeying Sharia Law.
The female doll figure, dressed in a floor length blue and white costume and a hair band, was promoting the opening of a sweet shop in the capital Riyadh. Inside the costume however, was a man who was reportedly making inappropriate gestures to his male mascot companion, according to Global Voices.
The Committee - also known as the "religious police" or "mutaween" - issued a statement on the incident, saying they received a number of reports about the two figures making unacceptable gestures in front of Sanabil Al Salam shop.
"We found a man in the female mascot and after contacting the superintendent of the Kharj area, we spoke to the man (in the doll) and made him and his supervisor write a statement that they will not repeat this again," the statement read. "We reminded them about Allah and that what they did was pretending to be women and that is against Sharia (Islamic law).
"They expressed remorse and (we) asked them to accompany us to the station, to complete the formalities."
The conservative kingdom has long been criticized for its limited women's rights. The mutaween enforces a strict dress code for women in Saudi Arabia, including wearing the hijab headscarf and a full black cloak called an abaya in public.
The "moral police" action to enforce dress codes to such an extent sparked disbelief on social media, generating thousands of tweets under the hashtag الامر_بالمعروف_تعتقل_دمية# or #Vice_Police_Arrest_a_Mascot.
In 2002, 15 school girls died in a fire after the committee refused to let them out of the burning public school because they were not "properly" covered. The mutaween denied charges of locking the gates, but witness accounts reported in Saudi newspapers led to a rare public criticism of the body.
Women are also banned from driving and must be accompanied by a chaperone in public. Last year, women were extended the right to vote in municipal elections for the first time.
Earlier this month a Starbucks in Riyadh followed an order from the "religious police" to ban women after a barrier designed to keep the genders apart in the cafe collapsed.
READ MORE: Saudi Starbucks refuses to serve women after 'gender wall' collapse
You can share this story on social media: