Thousands of protesters tear-gassed by Turkish police in Kurdish city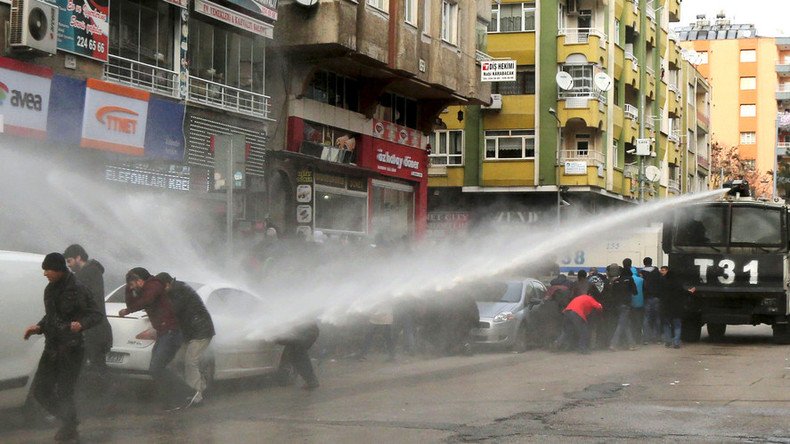 Turkish police have fired tear gas at thousands of people protesting in the city of Diyarbakir. Citizens of the Kurdish-majority city had been demonstrating against the continuation of a crackdown on Kurdish activists by Turkish police.
As a sign of protest, shops and schools were closed in the city, which is in southeastern Turkey. A representative of the Democratic Societies Congress said that the demonstration would last for three days before residents decide whether to continue the protests or bring them to a halt, RIA reports.
A few thousand protesters gathered in the city center to take part in a rally. However, they were met by police vehicles with law enforcement officers deploying tear gas and water cannon against the demonstrators. Shots could also be heard, while police made a number of arrests.
Tuesday's violence follows similar disturbances on Monday. Tanks and gunfire could be heard across the entire city, and columns of black smoke could also be seen, a RIA correspondent at the scene stated.
Meanwhile, also on Monday, around 60 people were reportedly killed in the basement of a building in the southeastern Kurdish town of Cizre during a military raid which, according to state media, was conducted to neutralize Kurdistan Workers' Party (PKK) fighters.
The Turkish Army conducted the raid to allegedly clear out a basement in the town where it claimed high-profile PKK terrorists had holed up, according to local media.
The multiple deaths led to protests by Kurds in London, who blocked part of the UK capital to demonstrate against Turkish airstrikes. The Kurdish National Congress UK, Peace in Kurdistan and London Kurdish Solidarity groups claim that "an all-out policy of annihilation" is being pursued against the Kurds by Turkish President Recep Tayyip Erdogan.
On February 1, the UN High Commissioner for Human Rights urged Turkey to investigate the shooting of unarmed people after footage emerged of innocent citizens being shot at the end of January.
"Today I am urging the Turkish authorities to respect the fundamental rights of civilians in its security operations and to promptly investigate the alleged shooting of a group of unarmed people in the southeastern town of Cizre after shocking video footage emerged last week," Zeid Raad Al-Hussein said.
He was referring to a January 20 incident in Cizre, in which 10 people were wounded as their group – which included two opposition politicians – came under fire while rescuing people injured in earlier clashes.
Since the collapse in July of a two-and-a-half-year ceasefire with militants from the PKK, southeastern Turkey has experienced its worst violence in two decades, as Kurdish militants fight for the right to self-determination and greater autonomy. Forty thousand people have been killed in the conflict between the two sides since 1984.
After the collapse of the peace process, the Turkish government introduced curfews in many Kurdish majority towns and cities in the southeast of the country.
Amnesty International has condemned the Turkish government for "failing to respond to the desperate pleas" of the residents.
"This is a desperate situation: injured individuals, some of whom are apparently bleeding heavily, are at grave risk of dying if they do not urgently receive medical care," said Andrew Gardner, Amnesty International's researcher on Turkey.
You can share this story on social media: