Bosnian Serb military commander dies in Hague tribunal's jail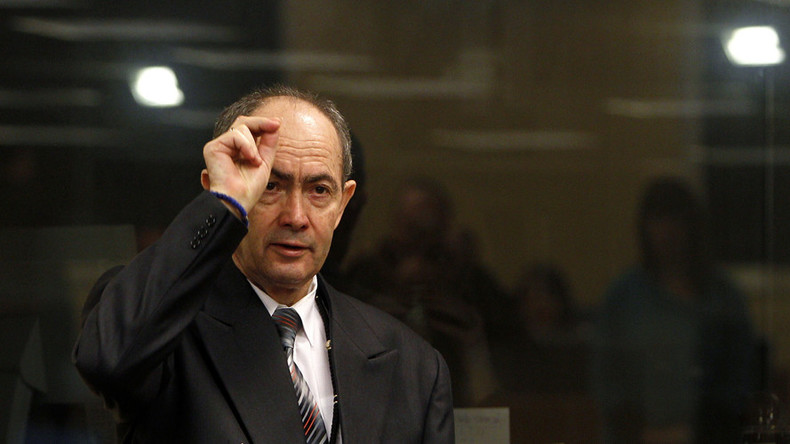 General Zdravko Tolimir, one of the top commanders in the Army of Republika Srpska during the Bosnian War, has died in The Hague detention center. He had been sentenced to life in prison in 2012 for "war crimes against Bosnian Muslim population."
The cause of death has not been reported, although last February Tolimir told the court that he had had four stents placed in his heart, according to Reuters.
"He was taken ill at the court's detention center at around 9 pm last night," Reuters cites the tribunal's spokesman, Nenad Golcevski, as saying. "He received medical attention but he passed away."
Tolimir was due to be transferred to a prison in one of the Hague Tribunal's sponsoring countries, but died at the age of 67.
"This is a grave loss not only for the family and friends but also for all Serb people," said Milorad Dodik, president of Republika Srpska, Bosnia's autonomous Serb Republic.
During the Bosnian War of 1992-1995, commander Tolimir (b.1948) was intelligence chief for the main headquarters of the Army of the Serb Republic (VRS), where he supervised security affairs and reported directly to VRS commander General Ratko Mladic.
Tolimir appeared before the International Criminal Tribunal for the Former Yugoslavia (ICTY) in 2007, accused of involvement in the alleged murder of 8,000 Muslim men in Srebrenica in July of 1995.
After years of trial, in April 2015, the Hague Tribunal's appeals chamber handed Tolimir a life sentence for committing war crimes against the citizens of Srebrenica.
However, ICTY acquitted him of genocide in Zepa, another UN-protected "safe area" taken by Serbs in the last year of the Bosnian War.
Zdravko Tolimir used to be "the right-hand man of the Bosnian Serb commander Ratko Mladic and sometimes knew more than Mladic himself," the presiding judge, Theodor Meron, said during the original trial, stressing that a life sentence was appropriate in Tolimir's case due to the gravity of his crimes.
"The accused had knowledge and was aware of the genocidal intent of the Bosnian Serb leadership and was responsible for genocide," the judge said.
However, this opinion was not shared by the entire panel. Judge Prisca Matimba Nyambe of Zambia said the evidence against Tolimir was "entirely circumstantial, based on presumptions, suppositions".
"There is no evidence linking him to the crimes perpetrated by his subordinates, nor does the evidence demonstrate that he knew that those crimes were being perpetrated," Nyambe wrote , adding that she was "wholly unpersuaded" of Tolimir's guilt in any of the charges alleged in the indictment.
Tolimir himself always insisted he was conducting a military operation against Bosnian Muslim "terrorist groups" that were attacking the Serb civilian population.
The ICTY was established in 1993 to put those on trial who were accused of committing war crimes and crimes against humanity following the break-up of multi-ethnic Yugoslavia. Armed conflicts on the territory of Yugoslavia's successor countries lasted throughout most of the 1990s and resulted in death of more than 130,000 people, according to a number of independent assessments.
Several ICTY defendants died during the course of their trials in The Hague, among them former Yugoslav President Slobodan Milosevic, who passed away in the court's custody on March 11, 2006, before the completion of his four-year trial.
The Krajina Serb leader Milan Babic allegedly committed suicide in The Hague on March 5, 2006, only six days before Milosevic's death,
In August of 2015, after being transferred to Lisbon prison unit, General Mile Mrksic, a former officer in the Yugoslav National Army, became the first to die outside of Scheveningen.
In October of 2015, Dusan Dunjic, a defense witness in former Bosnian Serb general Ratko Mladic's case, was found dead at his hotel in The Hague just hours before he was to testify in court.
Other Serb nationals who died in ICTY detention centers are General Djordje Djukic (died 1996), Croatian Serb leader Slavko Dokmanovic (died 1998); Milan Kovacevic, former mayor of Prijedor (died 1998), General Momir Talic (died 2003); and Miroslav Deronjic, a Bosnian Serb official (died in Sweden in 2007).
Ratko Mladic, commander of the RS Army and Tolimir's former boss, still remains on trial.
You can share this story on social media: