7 policemen injured, 17 people arrested during pro-Kurdish rally in Paris (VIDEO)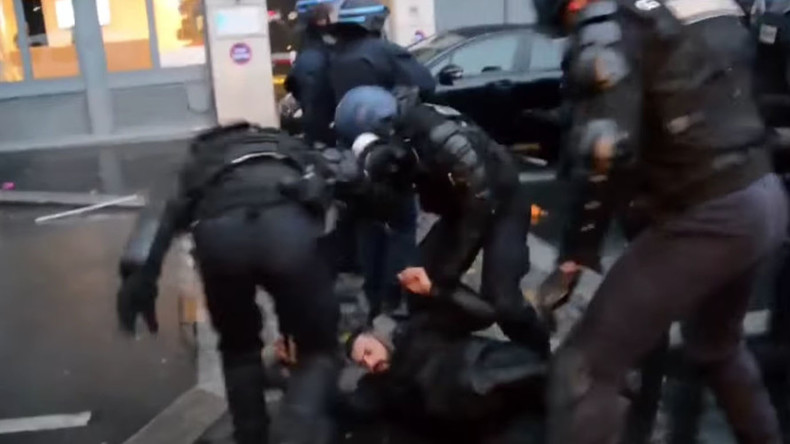 A protest in Paris against Turkey's deadly military operation in the town of Cizre turned violent leaving seven police officers wounded and 17 pro-Kurdish activists detained. Similar rallies took place in some other European cities.
The demonstrations followed media reports that Turkish forces killed about 60 people in the basement of a building in the southeastern Kurdish town of Cizre.
Around 150 pro-Kurdish activists initially gathered at the Turkish embassy on Avenue de Lamballe, on Monday, Le Parisien reports. After being blocked by police the activists tried to break the cordon which resulted in violent clashes. Police resorted to tear gas and rubber bullets while pro-Kurdish protesters threw stones at officers.
READ MORE: Kurds block Hyde Park Corner to protest Turkish airstrikes
Later pro-Kurdish activists gathered near Place de la Republique where they launched another rally carrying banners and waving Kurdish flags.
"60 Kurdish civilians wounded and executed by the Turkish state!" a banner of the protesters said referring to killing about 60 Kurdistan Workers Party (PKK) "terrorists" during a raid of Turkish forces in the town of Cizre, southeastern Turkey.
That rally also resulted in clashes with police, who resorted to using batons. The violence left seven police officers slightly injured and 17 pro-Kurdish protesters arrested, according to Le Parisien.
Another incident occurred in Bordeaux, where about 60 pro-Kurdish activists protested near the Turkish consulate. They chanted slogans, waved Kurdish flags and carried posters with the image of Abdullah Ocalan, the PKK leader who is serving a life sentence in a Turkish prison. One of the protesters climbed a balcony of the consulate and waved a Kurdish flag there, according to Turkish media. No arrests or injuries have been reported.
Pro-Kurdish rallies also took place in Germany, Switzerland and Britain. In Stuttgart, southwest Germany, the march also ended with clashes and left two activists arrested, Die Welt reports.
Turkey launched its anti-Kurdish military operation in southeast regions of the country in July 2015. Turkey claims that it is an anti-terrorist operation against the Kurdistan Workers' Party (PKK), which is banned as a terrorist organization in Turkey.
According to Amnesty International estimates, at least 150 civilians have been killed during the military operation, with over 200,000 lives having been put at risk.
You can share this story on social media: