Not so 'infertile' after all: Pope backtracked on Europe comments after 'angry' Merkel call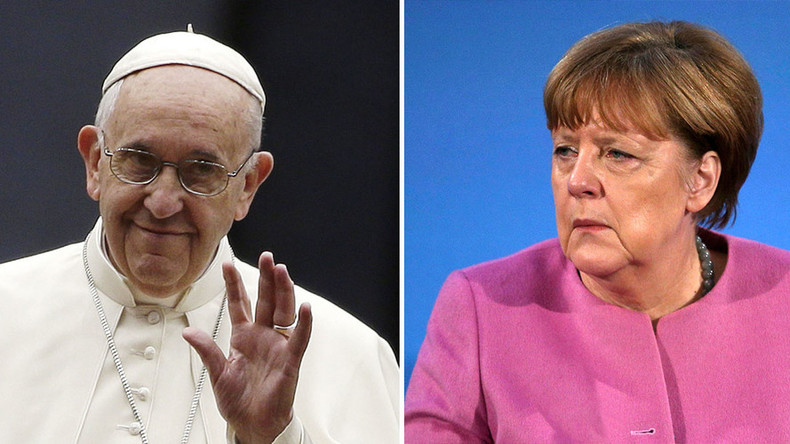 The Pope apparently doesn't think that Europe is "a barren woman" after all. In a phone call with German Chancellor Angela Merkel after his 2014 European parliament speech, Pope Francis told her the continent wasn't that 'infertile,' an Italian newspaper has reported.
Addressing the European parliament in 2014, Pope Francis said that "In many quarters, we encounter a general impression of weariness and aging, of a Europe which is now a 'grandmother,' no longer fertile and vibrant. As a result, the great ideas which once inspired Europe seem to have lost their attraction, only to be replaced by the bureaucratic technicalities of its institutions."
Shortly after the speech, Chancellor Angela Merkel called the Pope, he revealed in an interview with Corriere della Sera. It is only now that these details have become known to the general public – days before the historic meeting of Pope Francis and Russian Patriarch Kirill.
"German Chancellor Angela Merkel called me," Francis told Corriere Della Sera. "She was a bit angry that I had compared Europe to a barren woman, unable to bear children. She asked me if I really thought that Europe could not have children anymore."
"I replied that, yes, Europe still can [have children], and many, because it has strong and deep roots. Because it has a unique history. Because it had and may still have an important role: let us just recall all the culture and traditions it embodies. And even in its darkest hours it has always turned out to have unexpected resources," the pontiff recalled.
Pope Francis has become known for his liberal approach and stirring statements since assuming his post in March 2013.
In 2014, the Pope acknowledged that generally-accepted scientific theories are completely compatible with the Church's teaching. "The Big Bang, which today we hold to be the origin of the world, does not contradict the intervention of the divine creator but, rather, requires it," Francis said, adding that the evolution process was also part of God's plan.
READ MORE: God behind Big Bang and evolution - Pope
Pope Francis has also shown compassion towards gay couples: "If someone is gay and searches for the Lord and has good will, who am I to judge?" he said, responding the questions about celibate gay men becoming priests.
The Pope criticized the Vatican's governing body, the Curia, in 2014, emphasizing its bureaucracy and issuing a list of the 15 most frequent sins among church leaders. "Like any body, [the Curia] is exposed to sickness, malfunction and infirmity." Among the diseases he named were "spiritual Alzheimer's," "feeling immortal" and "the illness of the funereal face".
You can share this story on social media: